J-Love - Street Savior: Return Of The Street King (Hosted By Ghostface Killah)
Submitted by mfizzel on Wed, 06/21/2006 - 5:46am.
East Coast | J-Love | Mixtape Torrents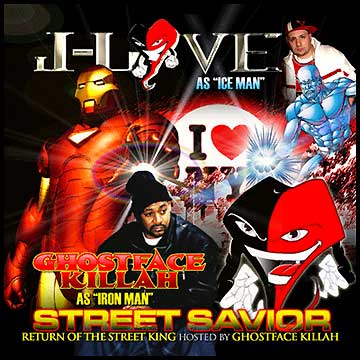 With Fishscale pouring scalding fish grease all over Ghostface Killah's
most loyal fans, the leader of Theodore Unit is back in the streets with
J-Love, the reigning Underground Mixtape DJ of the Year (and 2 years
running!). This mixtape kicks off a new series for J, but the same skillz
and rare gems light up this CD. New music from Ghost & Rae, AZ, Pete
Rock, Trife, Mobb Deep, Masta Killa, KRS, Pharaohe Monch & Sadat X.

1 - Intro
2 - Ghostface Killah - Iron Man [produced by J-Love]
3 - Ghostface Killah feat. Wu Tang Clan - 9Mm Bros(remix) [produced by J-Love]
4 - J-Love feat. N.Y.C Krooks - Fire Burnz [produced by J-Love]
5 - Trife & Tommy Whispers (Theodore Unit) - The Chosen One
6 - Ghostface Killah - Angels
7 - Raekwon - Blu Eagelz
8 - Killa Sha - The Church
9 - Pete Rock feat. Raekwon & Masta Killa - The P.J.'S
10 - Cormega & Lakey The Kid - The Oath
11 - AZ - Professional Style
12 - 50 Cent - Why You Looking
13 - Mobb Deep - So Ill
14 - Method Man - Things They Say
15 - Ghostface Killah - Spray Paint
16 - Ghostface Killah - Charlie Brown
17 - Nas & Nashawn - Level 7
18 - Greg Nice - Work It Out
19 - KRS-1 - What Do U Think
20 - Pharoahe Monch - Never Walk Together
21 - Meyhem - Another Hustle [produced by J-Love]
22 - Masta Killa - Ringing Bellz
23 - Ghostface Killah feat. Keyshia Cole - Mama
24 - Prodigy & 40 Glock - When Your Dying
25 - Sadat X & Money Boss Playerz - We Thuggin'
26 - Terminology - Watch How It Go Down
27 - Shabaam Sahdeeq - Rise Up
How To DOWNLOAD