Jim Jones Presents...M.O.B. (Members Of Byrdgang)
Submitted by mfizzel on Sat, 07/08/2006 - 7:19am.
East Coast | Mixtape Torrents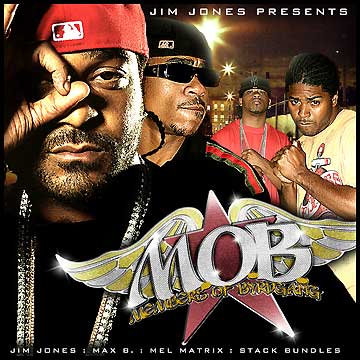 Building up a whole new wing of the Dipset Byrdgang over the past few months,
The Capo Jim Jones formally introduces you to his new team on this M.O.B. mixtape.
This official Diplomats mixtape is the first compilation of tracks by the newly
created Byrdgang, comprised of Jones, Max B, Mel Matrix (who appeared on the Who
Else But Us? mixtape) and the newest member and mixtape Riot-er Stack Bundles.
This new Dipset-affiliated firing sqaud of young talent only further strenthens the
already deep Harlem Diplomats family. This M.O.B. mixtape introduction features more
than 20 new tracks from the crew + cameos from J.R. Writer, 40 Cal. & Jha Jha.

1 - Capo Intro - Jim Jones
2 - Reppin Time - Jim Jones
3 - Superstars - Jim Jones
4 - Fucks With You - Stack Bundles, Max B, Jim Jones
5 - Ya Dig - Stack Bundles, Jim Jones
6 - Credibility - Jim Jones feat. Max B
7 - Lifes Like a Movie - Jim Jones feat. Stack Bundles, Mel Matrix, Max B
8 - Refreshing - Max B feat. Mel Matrix, Stack Bundles
9 - One Less Bitch - Max B, Mel Matrix, Jim Jones
10 - Money On My Mind - Stack Bundles, Jim Jones
11 - We Fly High - Jim Jones
12 - Do Bad By Myself - Stack Bundles, Jim Jones, Max B
13 - Hold Me Down - Max B, Stack Bundles , Mel Matrix
14 - What It Do - J.R. Writer, Jha Jha
15 - Minutes of Fame - Stack Bundles, Jim Jones, 40 Cal, Max B
16 - Thicker Than Brothers - Mel Matrix, Jim Jones, Stack Bundles, Max B
17 - Crunch Time - Max B, Stack Bundles, Mel Matrix
18 - Dope Game, Coke Game - Stack Bundles, Mel Matrix
19 - Prolific - Jim Jones, Max B, Mel Matrix
20 - Testify - NOE, Jim Jones, Max B
21 - Chalk Lined - Jim Jones feat. Hell Rell, Stack Bundles, Mel Matrix
22 - Don't Forget About Me - Jim Jones feat. Max B
How To DOWNLOAD