K-Boy - The Green Tape (Presented By DJ Ill Will, September 7th, DJ Warrior)
Submitted by mfizzel on Mon, 12/29/2008 - 1:34pm.
West Coast | DJ Ill Will | Mixtape Torrents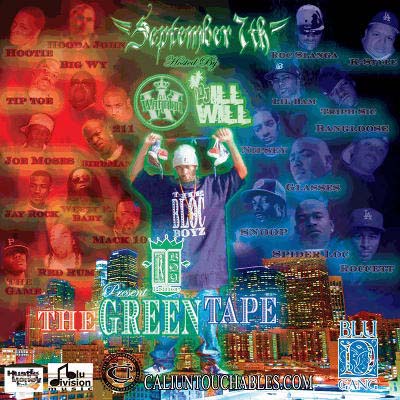 Cash Money's Glasses Malone's Blu Division Label has been making alot of noise
out West!! Here his young hogg K-Boy the Prince of The Bloc Boyz drops a unity
project for the Bloods & Crips of the Gang Infested Streets of LA. The age old
phrase goes "Blue & Red Makes Green" if you never heard it before then get
familiar!!
01. Green Tape Intro (Prod. by Tha Warriorz)
02. K-Boy feat. Jay Rock & G. Malone - Eastside Starz
03. Bangloose feat. K Active & Lil' Bam - California
04. How It Is Interlude
05. Roccett feat. K-Boy & Dough Boy - Gangsta Party
06. K-Boy feat. 211 & Hooda John - We Gangbangaz
07. K-Boy feat. Da Reptiblez - Active
08. K-Boy - Bang On
09. Goin' 2 Work Interlude
10. G. Malone feat. K-Boy & Roc Slanga - Strapped (Blu Division)
11. G. Malone feat. 211, Mack 10 & The Relativez - Strapped (Damu Division)
12. Redrum feat. Kurupt - When I Come Through
13. K-Boy feat. Jay Rock & Lil' Bam - Welcome 2 The Eastside
14. G. Malone feat. Mack 10 & Birdman - Big Baller RMX
15. Schoolboy Q feat. K-Boy & Jay Rock - Gutta
16. Kartoon feat. Spider Loc - Talk Of The Town
17. Joe Moses feat. K-Boy & Nipsey Hussle - Flags Up
18. Gangbangin' Ain't A Fad Interlude
19. Nipsey Hussle feat. The Game - They Roll
20. K-Boy - That Nigga
21. K-Boy - Dubz Up
22. G. Malone feat. Lil' Wayne & Birdman - Haterz
23. Snoop Dogg feat. The Game - Gangbangin' 101
24. Tip Toe feat. K- Boy - In The Hood
25. Positive Message Interlude
26. K-Boy - My Life
How To DOWNLOAD