DJ Skee And Dow Jones Present K-Boy - California Earthquake (Hosted By DJ Ill Will)
Submitted by mfizzel on Wed, 06/24/2009 - 8:00am.
West Coast | DJ Skee | Mixtape Torrents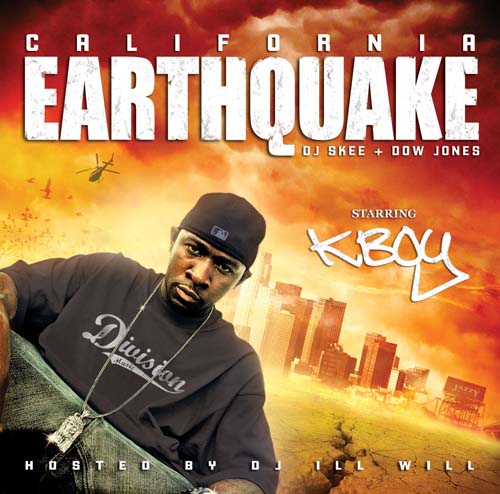 Hit the break for the press release & track list
South Central Los Angeles recording sensation K-Boy "The Prince" - an affiliate
of Glasses Malone's Blu Division and Mack 10's Hoo Bangin' labels - has just
released a brand new mixtape with DJ Skee, DJ Ill Will and Dow Jones called the
"California Earthquake."
Fresh off the success of his previous solo releases (Jackin 4 Beatz, The Green
Tape) and a long list of memorable guest appearances alongside notable rappers
such as Glasses Malone, Roccett, Jay Rock and more, K-Boy's latest project
continues to show why many regard him as one of the West's top new artists. K-
Boy has been featured in Ozone Magazine and is a regular on many major hip-hop
websites.
"California Earthquake" is a must-listen CD that teams him up with two of the
most well-known DJ's in rap - Skee and Dow Jones and hosted by DJ Ill Will - and
includes star-studded features from Nipsey Hussle, Jay Rock, Glasses Malone,
Tyga and many more. Production is also A-list with multiple songs from Tha
Bizness as well as 1500 or Nothin and others.
With 26 new tracks of dope material, a strong Mic presence and a list of
connections that have lead to cameos in major videos like Tyga's "Cali Love,"
G.Malone's "Haterz," "Sun Come Up" and "60 Million Dollar Flow" from the Next
Day Air soundtrack, plus Nipsey Hussle's "Hussle in the House" and Jay Rock's
"All My Life" on MTV Jamz and BET, K-Boy is making sure everyone gets to know
his face and name.
Check the new project out and see why K-Boy is going to shake the industry up
with his California Earthquake.
01. Intro
02. Hammers Go
03. We Jerk
04. Bank Roll
05. Topdawg Blu D Gang
06. More Than Friends
07. Let It Reign
08. Dubbz Up
09. Like Us
10. Fucc U
11. Its All Over
12. Watch Me Do It
13. Prescription
14. Im Poppin
15. All Night Flight
16. Bleed My Block
17. Fly Guy
18. Shame
19. Flags Up
20. U Dont Know Me
21. Welcome 2 Da Eastside
22. Crazy
23. G Shit
24. Tonight
25. West Coast
26. La 2 Da Bay
27. Dear Women
How To DOWNLOAD