Kochece - D-Block & The 5 Heartbeats Vol. 4
Submitted by mfizzel on Sun, 03/12/2006 - 8:06am.
Mixtape Directory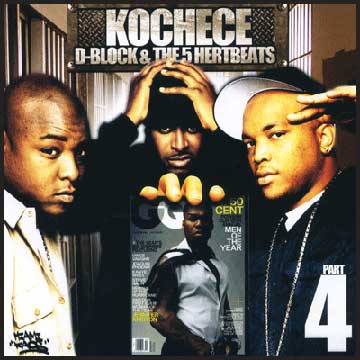 Kochece is back with the fourth edition of this dope series called D-Block
And The 5 Heartbeats, which captures all the latest drama & the ongoing
fued between G-Unit & D-Block. This features the latest diss tracks and
new music from 50 Cent & Lloyd Banks, Spider Loc, Young Buck, Tony
Yayo, The Game, Sheek Louch, Jadakiss & Styles P., J-Hood & Gravy.

1 - Intro
2 - Styles P feat. Sheek Louch - Gangsta Shit
3 - Jadakiss feat. Styles P - Ms. Jackson
4 - 50 Cent - Not Rich, Still Lyin'
5 - Game - 240 Bars
6 - Sheek Louch - Incognito
7 - Spider Loc - Bitch Boy
8 - Sheek Louch - Cock Back
9 - J-Hood feat. Gravy - Crash The Party
10 - G-Unit - Have A Party
11 - Young Buck - Freestyle
12 - Sheek Louch - Heard 'Em Say
13 - Styles P feat. Sheek Louch - Get That Money
14 - Busta Rhymes feat. Lloyd Banks - Touch It (remix)
15 - Sheek Louch - Fade Out
16 - 50 Cent feat. Olivia - Best Friends
17 - J-Hood - You're All Welcome
18 - Young Buck - I Need A Freak
19 - Lloyd Banks feat. 50 Cent - Drama In The Hood
20 - Sheek Louch - Murda, Murda
21 - Kochece - Whatever
22 - Young Buck - Post It Up
23 - M.O.P. feat. 50 Cent - War Time
24 - Sheek Louch - Reload
25 - Sheek Louch feat. Jadakiss - G's Up
26 - Tony Yayo - Known Supplier
27 - D-Block - Take Everything You Got
How To DOWNLOAD