LEGENDARY Remixes & Beats (Produced By Sebmaestria) (Hosted By M.anifest)
Submitted by mfizzel on Fri, 04/10/2009 - 6:58am.
Remixes | Mixtape Torrents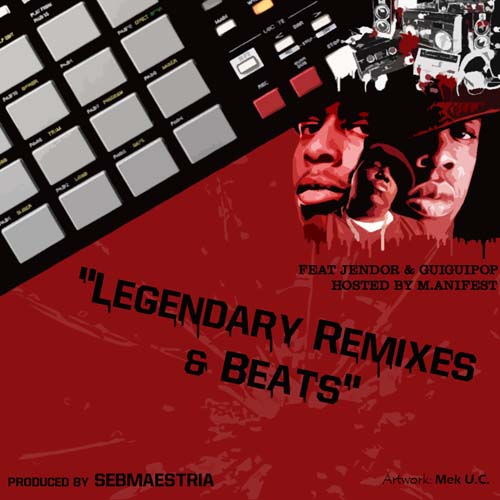 Produced by Sebmaestria, hosted by M.anifest, with a special appearance from
JENDOR (Courtesy of Life Jacket Records)
Includes exclusive bonus track from M.anifest & Guiguipop.
Mixtape also includes a 2nd disc with 14 beats, tracklist & contact info is below.
1- M.anifest introduction (SebmaestriaMPC check)
2- Nas: I can remix (prod Sebmaestria)
3- M.anifest interlude
4- Notorious BIG: going back to Cali remix feat JENDOR (prod Sebmaestria)
5- Talib Kweli: listen remix (prod Sebmaestria)
6- Alicia Keys ft Nas & Rakim: streets of NewYork remix (prod Sebmaestria)
7- Fugees: Fu-gee-la remix (prod Sebmaestria)
8- JayZ: december 4th remix (prod Sebmaestria)
9- Arrested Development: ease my mind remix (prod Sebmaestria)
10- Pharcyde: runnin' remix (prod Sebmaestria)
11- JayZ: jigga my nigga remix (prod Sebmaestria)
12- Wyclef, Akon, Lil Wayne: sweetest girl remix (prod Sebmaestria)
13- Talib Kweli: get by remix (prod Sebmaestria)
14- Common ft Mary J Blidge: come close remix (prod Sebmaestria)
15- Lupe Fiasco: kick push remix (prod Sebmaestria)
16- Outro: can't stop (prod Sebmaestria)
17- Bonus track: M.anifest feat Guiguipop: Who? (prod Sebmaestria)
CONTACTS:
Sebmaestria:
http://www.myspace.com/sebmaestria
http://twitter.com/sebmaestria
http://www.facebook.com/pages/Sebmaestria/38787984219
Mek U.C artwork:
andrieu.maxime@gmail.com
Jendor:
http://www.myspace.com/imjendor
http://www.jendor.net
M.anifest:
http://www.myspace.com/manifestations
Guiguipop:
http://www.myspace.com/guiguipop
How To DOWNLOAD