Lil Keke - The Album B4 The Album (Mixtape)
Submitted by mfizzel on Sun, 07/30/2006 - 8:23am.
Dirty South | Mixtape Torrents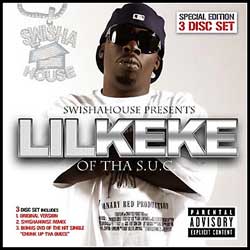 Chunk up a deuce for the return of the Southside Houston Don Lil' Keke, as
the original member of Screw's disciples The Screwed Up Click releases this
official Swishahouse CD.
With his Swishahouse Records debut Loved By Few, Hated By Many right around
the corner, 'Don Ke' hits you with a full-length album prequel mixtape, ala.
Paul Wall's mixtape last year before his album.
This special 2-disc set features one regular-speed CD, and a Swishahouse
remix version (CD) The mixtapes feature entirely new freestyles from Lil'
KeKe recorded exclusively for this mixtape, and as always, Michael '5000'
Watts gives it that Swishahouse touch.
[CD 1]
1. Intro
2. Swangin & Pressin Buttons
3. Knockin Doors Down Flow (Ft.Big Pokey)
4. Knockin Doors Down Reprise
5. Im Straight Flow
6. Presidential Flow
7. Snap Ya Fingers Flow
8. Album Coming Soon
9. 2k6 25 Lighters Flow
10. Its Going Down Flow
11. Album Still Coming Soon
12. Get Money Stay True Shy
13. Stop Then Look Flow
14. Clairemont Lounge Flow
15. Southside (Throwback Classic)
16. Get Ya Shine On Interlude
17. Im Clean As A Muthafucka
18. Rodeo Flo
19. Front Back & Side 2 Side Flow (Ft.Big Pokey)
20. Shoulder Lean Flow
21. I Do This For The T.E.X. (Ft.Archie Lee)
22. Swishahouse Roll Call
23. Definition Of A Thug Nigga
24. Hustlin Flow
25. Slab Holiday Interlude
26. Gangsta Party Freestyle
27. If I Ruled The World Flow
28. Well Overdue Nigga Interlude
29. So Many Tears Flow
[CD2]
1. Intro (Slowed)
2. Swangin & Pressin Buttons (Slowed)
3. Knockin Doors Down Flow Ft.Big Pokey (Slowed)
4. Knockin Doors Down Reprise (Slowed)
5. Im Straight Flow (Slowed)
6. Presidential Flow (Slowed)
7. Snap Ya Fingers Flow (Slowed)
8. 2k6 25 Lighters Flow (Slowed)
9. Its Going Down Flow (Slowed)
10. Album Still Coming Soon (Slowed)
11. Get Money Stay True Shyt (Slowed)
12. Stop Then Look Flow (Slowed)
13. Clairemont Lounge Flow (Slowed)
14. Southside Throwback Classic (Slowed)
15. Get Ya Shine On Interlude (Slowed)
16. Im Clean As A Muthafucka (Slowed)
17. Rodeo Flow (Slowed)
18. Shoulder Lean Flow (Slowed)
19. I Do This For The T.E.X. Ft.Archie Lee (Slowed)
20. Swishahouse Roll Call (Slowed)
21. Definition Of A Thug Nigga (Slowed)
22. Hustlin Flow (Slowed)
23. Slab Holiday Interlude (Slowed)
24. Gangsta Party Freestyle (Slowed)
25. If I Ruled The World Flow (Slowed)
26. Well Overdue Nigga Interlude (Slowed)
27. So Many Tears Flow (Slowed)
3rd CD is a music video, not included
How To DOWNLOAD