Mick Boogie & Kanye West: Second Semester
Submitted by mfizzel on Thu, 01/05/2006 - 4:34pm.
Mixtape Directory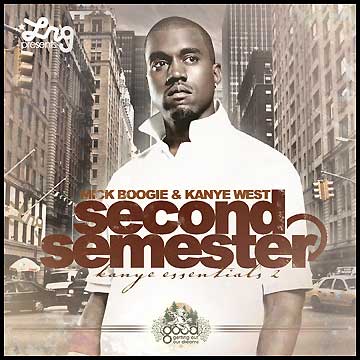 Mick Boogie and LRG Clothing represent for the book-baggin' musical
prodigy Kanye West on this sequel to one of the most popular mixes on
MixUnit. Back with the one and only Kanyeeezy and his entire G.O.O.D.
music team on this official LRG mix, Roc-A-Fella's super-producer/rapper
kicks rare remixes, blends, freestyles, live joints, ill production & more...

1 - Mick Boogie Intro
2 - Kanye West/LRG Intro
3 - Kanye West - Diamonds From Sierra Leone (LIVE)
4 - Kanye West & Common - Back To Basics (The Corner, part 3)
5 - Consequence Interlude
6 - Consequence & Common - Caught Up In The Hype Part 2 (Mick Boogie mix)
7 - Really Doe Interlude
8 - Kanye West, Consequence & Little Brother - Nawww
9 - Kanye West, Common, Talib Kweli, Q-Tip & Rhymefest - Make It Better
10 - Rhymefest Interlude
11 - Kanye West & Rhymefest - Brand New (Kickdrums remix)
12 - Rhymefest & Just Blaze - Dynamite
13 - Kanye West/LRG Interlude
14 - Kanye West & Common - Diamonds On My Neck (Mick Boogie mix)
15 - Common Interlude
16 - Common & Kanye West - They Say (extended LIVE mix)
17 - Kanye West - Go Freestyle (Mick Boogie mix)
18 - Kanye West - Crack Music (spoken word version)
19 - Kanye West, Nas & Jay-Z - We Major Part 2 (Mick Boogie mix)
20 - Kanye West/LRG Interlude
21 - Kanye West - Heard 'Em Say (LIVE)
22 - A-Trak Interlude
23 - Kanye West, Freeway & Cassius - The One
24 - Lupe Fiasco - Kick Push
25 - Kanye West/LRG Interlude
26 - Kanye West, Fabolous, & Miri Ben Ari - Fly Away
27 - Kanye West - Name That Tune
28 - Kanye West, The Clipse & Aura - Crazy
29 - Kanye West & Mela - You
30 - GLC Interlude
31 - GLC - Stay Chi
32 - Kanye West, Rhymefest & Bump J - Pushaman, part 2
33 - Kanye West/LRG Outro
34 - Kanye West & John Mayer - Bittersweet (bonus track)
How To DOWNLOAD