Mick Boogie, nVMe & Duck Down Present - Survival Kit
Submitted by mfizzel on Thu, 01/21/2010 - 12:55pm.
General | Mick Boogie | Mixtape Torrents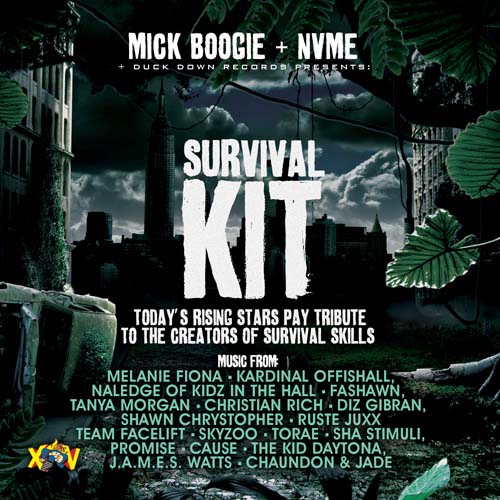 Survival Kit is an ode to KRS-ONE & BUCKSHOT's incredibly rich history of music.
Their classic hits have been reinterpreted by today's artists to watch.
1) Survival Kit (Intro) by DJ Sherazta
2) Gotcha Opin Original (RMX) - Tanya Morgan (produced by NVME)
3) South Bronx (RMX) - Cause, The Kid Daytona & Chaundon (produced by NVME)
4) Buck Em Down (RMX) - Christian Rich (produced by NVME)
5) Sound Of Da Police (RMX) - Diz Gibran & Shawn Chrystopher (Produced by ILL
TAL)
6) Shit Iz Real (RMX) - Ruste Juxx (produced by NVME)
7) Step Into Our World (RMX) - Team Facelift & Jade (produced by ABADDON)
8) Talk Shit (RMX) - Torae & Skyzoo (produced by NVME)
9) MC's Act Like They Don't Know - Sha Stimuli, Promise, J.A.M.E.S. Watts,
Fashawn (produced by NVME)
10) I Got Cha Opin 09 - Kardinal Offishall & Buckshot (produced by Havoc of Mobb
Deep)
11) Past Present Future - KRS-ONE, Buckshot, Melanie Fiona & Naledge of Kidz In
The Hall (produced by 9th Wonder)
How To DOWNLOAD