Mick Boogie Presents Paulie Rhyme - Less Than Zero
Submitted by mfizzel on Wed, 10/07/2009 - 9:21am.
General | Mick Boogie | Mixtape Torrents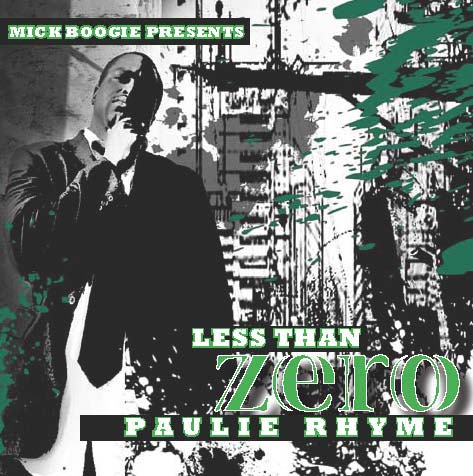 Mick Boogie presents Paulie Rhyme, Less than Zero is a 15 track opus of an
emcees take on being bred in the Midwest and breakthrough in the Bay. Paulie
Rhyme has been touring steadily since 2005 (Guy on the Couch, Green Giants, Ice
Bears, etc.) hitting the road in the US, Canada, & Japan with acts such as
Hezekiah (Beat Society), Prince Po (Organized Konfusion), and more. With a
strong D.I.Y. work ethnic and rooted in the teaching of the Zulu Nation, Rhyme
is definately aimed to move the crowd, rock the spot, and uplift your spirit.
With a combination of soul, boom bap, lyrics, and thought provoking concepts,
Less than Zero is a must have and gives the listener a full view of what is to
come in the future.
Featuring production by Keelay & Zaire, Vinroc, King Most, Amos Famous, Rey
Resurreccion, Besto, Tone X, Deedot, Joe Dukes, Soundtruck, with guest
appearances by Raashan Ahmad, Drastic, Proph the Problem, Wonway, Khai
Sharrieff, Edreys aka Billy Drease, Knobody, Do. D.A.T., Da Evangillest, K-
Swift, Solis Cin, Enoch, Inkfat, Wreckelekt, & Dj Rod Roc
1. Po Po Chop Prod By Lmntal
2. Different Cloth Featuring Drastic & Proph The Problem Produced By Keelay
3. Live Your Life Featuring Raashan Ahmad Produced By Besto
4. Indeed Featuring Wonway, Khai Sharrieff, & Billy Drease Produced By Deedot
5. Breathalizer Featuring Knobody, Khai Sharrieff, & Do D.A.T. Produced By Besto
6. Classic Produced By Amos Famous
7. You And I (The Way) Produced By King Most
8. Like The Wind Produced By Rey Resurreccion
9. Test Me Featuring Da Evangillest Produced By Keelay & Zaire
10. Get Down Featuring K-Swift Produced By Tone X
11. Homerun Produced By Soundtruck
12. So Sick Featuring Solis Cin & Enoch Produced By Rey Resurreccion
13. Wandering Featuring Inkfat & Wreckelekt Produced By Joe Dukes
14. Put It Up Produced By Vinroc
15. I Got Love Produced By Rey Resurreccion
How To DOWNLOAD