Mick Boogie & Terry Urban Present Paulie Rhyme - Less Than Zero Vol 2
Submitted by RSS on Fri, 08/19/2011 - 7:22am.
General | Mick Boogie | Terry Urban | Mixtape Torrents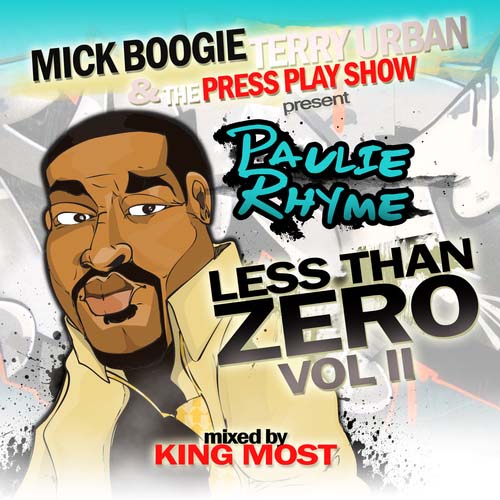 Follow Paulie Rhyme: Twitter | Facebook
BTW in conjunction with the Press Play Show is proud to bring you Less Than Zero Volume 2 from Bay Area based emcee Paulie Rhyme. After the overwhelming response from last year's Less Than Zero (from the blogs to the Grammys), Rhyme connects back up with international taste makers Mick Boogie and Terry Urban, to bring you a sonically progressive project mixed by the one and only King Most (Plug Label). Less Than Zero Volume 2 is about carving your own lane and doing what you do best, while keeping it fresh and innovative. Making sure that there are joints for everybody without compromising who you are, what you represent, and more importantly putting out quality music.
Production is handled by Roughdraft, Kilam, Lmntal, C. Avery, Rey Resurreccion, Wardrumz, Squareweezy, Madd Caesar, King Most, Deedot, Tee Rock, and Cutso.
1. Paulie Rhyme - Clout (Intro) (Prod. by Roughdraft) [01:30]
2. Paulie Rhyme - Peace Ahki (Prod. by C. Avery) [03:09]
3. Paulie Rhyme - Quotes (Prod. by Kilam) [03:15]
4. Paulie Rhyme - Dear Future (Prod. by Lmntal) [02:08]
5. Paulie Rhyme - Lights ft. Rey Resurreccion & OneSelf DaVinci (Prod. by Rey Resurreccion)[02:24]
6. Paulie Rhyme - Land of the Living (Prod. by Wardrumz) [01:26]
7. Paulie Rhyme - So Much (Prod. by Rey Resurreccion) [01:48]
8. Paulie Rhyme - F.G.P. ft. Rey Resurreccion (Prod. by Squareweezy)[01:36]
9. Paulie Rhyme - Half Past Ten ft. Vic Freeze & Crazy T (Prod. by Madd Caesar)[03:29]
10. Paulie Rhyme - The Cliff ft. Moto (Prod. by King Most) [03:00]
11. Paulie Rhyme - Moving on Up (Prod. by Deedot) [03:30]
12. Paulie Rhyme - Today's the Day (Prod. by Roughdraft) [03:08]
13. Paulie Rhyme - Time Stopper (Outro) (Prod. by Tee Rock) [01:50]
14. Paulie Rhyme - Changing Windows (Prod. by Cutso) [03:23]
15. Paulie Rhyme - Clones ft. Yung Mars & Bru Lei (Prod. by Lmntal)[04:30]
16. Paulie Rhyme - Keep On (Feeling) (Remix) ft. Rep Life (Prod. by Deedot)[03:08]
How To DOWNLOAD