Mick Boogie - Rick Ross: Rick The Ruler
Submitted by mfizzel on Thu, 05/25/2006 - 11:50am.
Dirty South | Mick Boogie | Mixtape Torrents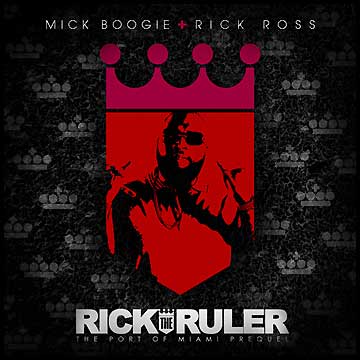 The Commissioner Mick Boogie commissions 'The Fucking Boss' aka.
the cat that Noriega owes 100 favors, Rick Ross. With Miami straight
blowing up after Ross dropped his five-alarm record "Hustlin," the ATL
trap-star Young Jeezy joins Rick with the young Def Jam-mers' boss,
Jay-Z, to bring you the official remix. To jump that off, Ross & Mick
bring you Rick The Ruler to remind you of how they hustle in the 305.

1 - Intro
2 - Rick Ross - Introduction
3 - Rick Ross - League Crew Freestyle
4 - Rick Ross, Young Jeezy & Jay-Z - Hustlin' (official remix)
5 - Rick Ross - What You Know
6 - Rick Ross, Too Short & Pimp C - Money Maker
7 - Rick Ross, Daz, & Slim Thug - Real Shit (Mick Boogie mix)
8 - Rick Ross - Throwed Ish
9 - Rick Ross - The Ruler's Back Part 1 (produced by The Kickdrums)
10 - Rick Ross - Interlude
11 - Rick Ross, Trick Daddy, Pitbull & DJ Khaled - Born & Raised
12 - Rick Ross & Dela - Kick In The Door
13 - Rick Ross, Biggie & The Clipse - Just A Memory (Mick Boogie mix)
14 - Rick Ross & Lil Wayne - Hustlin' (remix #2)
15 - Rick Ross & Triple C - Whip It Real Hard
16 - Rick Ross, Nore & M1 - Yup
17 - Rick Ross, Bun B & Ty Cobb - On My Grind
18 - Rick Ross & Big Neil - Dope Boy (remix)
19 - Rick Ross - Interlude
20 - Rick Ross - Collar Poppin'
21 - Rick Ross, Shawnna, Lil Wayne, Busta & Pimp C - Gettin' Some Head (remix)
22 - Rick Ross, Big Krit & Dre - Chevy Ridin' High (remix)
23 - Rick Ross - Grippin' Grain
24 - Rick Ross - Nike Airs
25 - Rick Ross - Outro
26 - Rick Ross - Doin' My Job (Bonus Track)
27 - Rick Ross & Eddie Bauer - League Crew Radio Interview (Bonus Track)
28 - Rick Ross - I'm Bad (Bonus Track)
How To DOWNLOAD