Stackhouse Recordings - Passa Passa 2
Submitted by romeo on Thu, 11/23/2006 - 3:29pm.
Reggae | Mixtape Torrents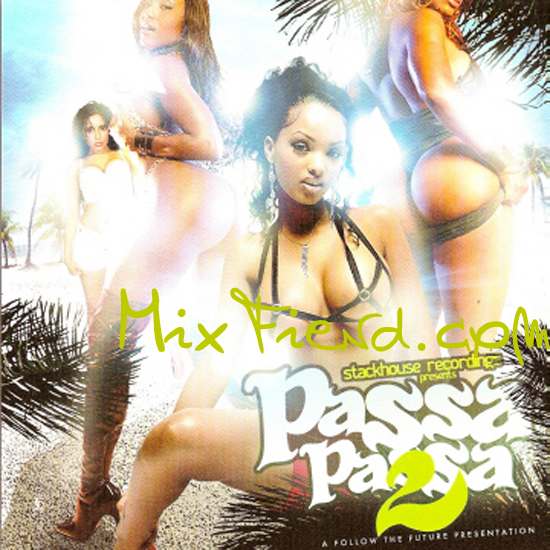 Stackhouse Recordings & reggae is back with Passa Passa 2 for music
listeners awaiting a quality product. This mixtape brings you with
the brightest stars in reggae and keeps you up to date with all the
new music to hit the mainlands. This mixtape contains reggae tracks
from Collie Budz, Elephant Man, Sizzla, Future, Mr. Lexx, Mr. Rambo,
Beenie Man, Bounty Killer, Buju Banton, Mr. Easy, Movado and more.
01. Collie Buddz - Come Around
02. Donell Jones feat. R.Kelly - I'm Gonna Be [remix]
03. Elephant Man feat. Champagne - Hot Love
04. Sean Paul feat. Rihanna - Break It Off
05. Voicemail - Let's Dance
06. Tony Matterhorn - Ready Fi Party
07. T.O.K - Freeze
08. Elephant Man - We Nuh Tek Bad Up
09. Sizzla - Mek It Beat
10. Tyrical - Rusty Sitten
11. Shema - Convince Me
12. Wayne Wonder - Mistake
13. Capleton - Wha Dis Wha Dis
14. Collie Buddz - Mamacita
15. Ras Myrdak - All Over You
16. Mr. Vegas - Hot Wuk
17. Future Rambo - Cry Mi A River
18. Tiffa - Kitty Police
19. Elephant Man - Garrison Anthem
20. Mr. Lexx - Cut Eye Cut Eye
21. Mr. Easy - Friend
22. Movado - Last Night
23. Shane O - Wife & Mate
24. Bounty Killa - Bulletproof Skin
25. Tony Matterhorn & Mr. Easy - Wikedest Ride
26. Beenie Man - Bulletproof Vest
27. Cham feat. Rihanna - Boom Boom
28. Bounty Killa - Four Seasons
29. Da'Ville - Real Gangstas
30. Movado - Seems So Clear
31. Tony Matterhorn - Not Forgotten
32. T.O.K - Dem Nuh Original
33. Alaine - Come For Me
34. Assassin - Mouth Mek Fi Chat
35. Polindus - You Dig
36. Movado - Nuh Chatty Ting
37. Elephant Man - Chuck Off
38. Mr. Peppa - Trouble Maker
39. Voicemail & Assassin - Talk Bout Yu Youth
40. Buju Banton - Any Weather Any Season
41. Vybz Kartel - Gunshot Mek Dem Dead
42. Buju Banton - A Who
43. Fata - Real Badman
44. Mr. Easy & Los - Rude Bwoy & Police
45. Sluggy Ranks - Snake In The House
46. Justin Timberlake feat. Meena & T.I - My Love [remix]
47. Beyonce feat. Meena - Ring The Alarm [Stackhouse Blend Remix]
How To DOWNLOAD