DJ Famous - RnB Vol. 58 (If I Was Your Man)
Submitted by romeo on Wed, 01/17/2007 - 3:53pm.
R&B | DJ Famous | Mixtape Torrents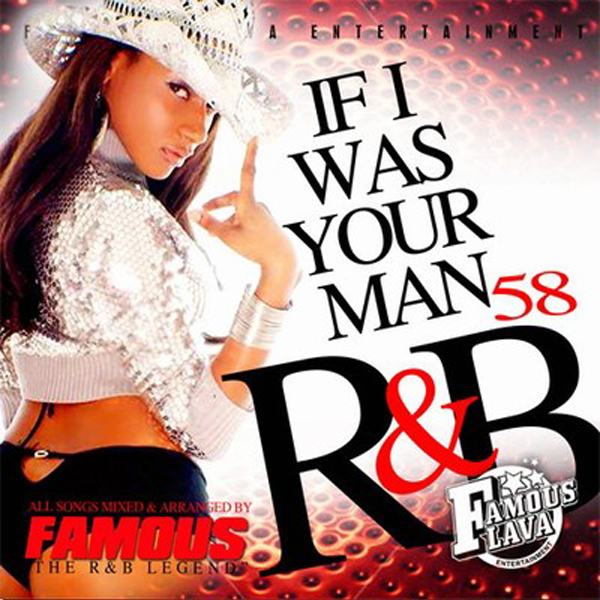 Two shy of the big 60, DJ Famous is just short of a Legendary plateau in the R&B
mixtape game. With #58 in the series, the master brings you the If I Was Your Man
edition. Taking you for another ride through the hottest R&B out, this mixtape
features nothing but new tracks, hits, remixes and club heavy hitters.
This mixtape features brand new R&B music from Musiq with Fat Joe, Lil' Wayne & Mya,
Fantasia, Omarion, Mario, Beyonce, Kanye West, Nelly Furtado, Ciara & Busta Rhymes,
Robin Thicke, Keyshia Cole, Bow Wow, Bobby Valentino & more.
1. R. Kelly Feat. Fat Joe, Lil Wayne, Baby, T.I., Rick Ross - Make It Rain (Remix) [6:19]
2. Musiq Feat. Fat Joe, Ja Rule, Jadakiss - Buddy (Remix) [4:12]
3. Lloyd Feat. Andre 3000, Nas - You (Remix) [4:19]
4. Fantasia - When I See You [3:22]
5. Bobby Valentino - Lets Go [3:08]
6. Mya Feat. Lil Wayne - Lock Up [3:16]
7. Mario - Go [3:40]
8. Omarion - Electric [3:12]
9. Joe - IF I Was Your Man [3:45]
10. Razah - Where Do We Go From Here [3:16]
11. Chapter 4 Feat. S-One - Fool Wit U (Remix) [4:34]
12. Beyonce Feat. Swizz Beatz - Get Me Bodied [3:21]
13. Diddy Feat. Young Joc, Young Dro, T.I. - Come To Me (Remix) [3:39]
14. The Game Feat. Kanye West - Wouldnt Get Far [4:08]
15. Nelly Fertado - Say It Right [3:04]
16. Diddy Feat. Keisha Cole - Last Night [5:30]
17. Bow Wow Feat. R.Kelly - Im A Flirt [4:15]
18. Ciara Feat. Busta Rhymes - Promise (Remix) [4:48]
19. Tank - Please Dont Go [3:42]
20. Robin Thick (Ladies Pick) - Lost Without You [4:16]
How To DOWNLOAD