Tapemasters Inc. - The Future Of R&B Pt. 11 (Hosted By Akon)
Submitted by mfizzel on Thu, 09/07/2006 - 1:42pm.
R&B | Tapemasters Inc | Mixtape Torrents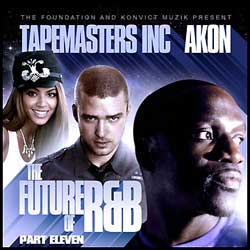 The new R&B prince Akon joins the NYC mixtape group Tapemasters Inc. for
their 11th R&B presentation in the The Future Of R&B series.
Following up last edition's appearance from Beyonce with the man everyone
turns to for a verse, this CD is another round of the flyest R&B on the
planet. Bringing you new & exclusive R&B tracks, Akon isn't the only one
with a new track on this CD.
This mixtape also features new music from Beyonce & Jay-Z (new!), Omarion
& 50 Cent, Justin Timberlake & T.I., Robin Thicke, NeYo, Cassie, Bobby
Valentino, Snoop Dogg, Janet Jackson, Mya and more.

1 - Akon & Tapemasters Inc Intro
2 - Beyoncé feat. Jay-Z - Upgrade U (produced by Swizz Beatz)
3 - Omarion feat. 50 Cent - Entourage (remix)
4 - Justin Timberlake feat. T.I. - My Love
5 - Akon - Smack That
6 - Robin Thicke feat. AC - Cocaine (remix)
7 - Justin Timberlake feat. Will.I.Am - Damn Girl
8 - Janet Jackson feat. Khia - So Excited
9 - Beyoncé - Freakum Dress
10 - Cassie - In Love With You (Not On Album)
11 - Akon Future Of R&B Interlude
12 - Akon feat. Snoop Dogg - I Wanna Fuck You
13 - Bobby Valentino - Checkin Me
14 - Beyoncé - Irreplaceable
15 - Ne-Yo - I Was In Love
16 - Dusty Garcia feat. Jadakiss - Reminisce (remix)
17 - Akon feat. Styles P - Blown Away
18 - Rico Love - What You Sayin
19 - Joy Denalane feat. Raekwon - Heaven Or Hell
20 - Mya - Ridin
21 - Marques Houston - Miss Being Ur Man
22 - Monica - Why Her
23 - S. Rob feat. AC - It's Ok
24 - Joe - Shame
25 - Akon Future Of R&B Outro
How To DOWNLOAD