Tapemasters Inc - The Future Of R&B Pt. 10
Submitted by mfizzel on Fri, 08/04/2006 - 2:22pm.
R&B | Tapemasters Inc | Mixtape Torrents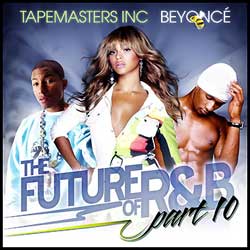 Joining one of the biggest R&B stars, male or female, in the industry today, Tapemasters Inc.
are joined by the talented, beautiful, sexy, gorgeous, and taken Beyoncé.
Jigga's leading lady teams up with one of NYC's top mixtape teams to preview the new single
off her forthcoming sophomore album B'Day (slated for release in September).
Featuring the new B'Day track "One Night Only," this mixtape also features new tracks &
remixes from Pharrell, Cassie, Mya & Yung Joc, Mary J Blige & T.I., Megan Rochelle, Snoop Dogg,
Nicole (PCD) & Diddy, Monica, Donell Jones and more.

1 - Beyonce - One Night Only
2 - Pharrell - Don't Take It Personal
3 - Pharrell feat. Jay-Z - Young Girl
4 - Cassie - Long Way To Go
5 - Uness - Old Skool Joint
6 - Mya feat. Yung Joc - Bout It (produced by Kwame)
7 - Mary J. Blige feat. T.I. & Jay-Z - Turn Off The Lights (Part 2)
8 - Megan Rochell feat. AC - Betcha
9 - Diddy feat. The Notorious Big & Nicole(Pussycat Dolls) - Come To Me (MB Remix)
10 - Pharrell feat. Snoop Dogg - That Girl
11 - Marques Houston - Favorite Girl
12 - Mary J. Blige - Only Wanna Be Your Lov
13 - Chris Brown - One Mo Gin
14 - Cassie - Not With U (written & produced Uness & R-Les
15 - Mya - Ayo
16 - Trey Songz feat. Akon - Hustla
17 - Akon feat. Styles P - Blown Away
18 - Tony Sunshine feat. Fat Joe - Higher
19 - Beyonce Interview
20 - Danity Kane feat. Diddy & Yung Joc - Showstopper
21 - Bobby Valentino - Turn The Page
22 - Cassie - Don't Go To Slow
23 - Monica - Sideline Ho
24 - Letoya - She Don't
25 - Donell Jones - Bad Girl
26 - Lavell feat. Ac - Guilty Conscience
27 - Johnel feat. E-Ness - If U Want Me To
28 - S-Rob - She's A G
How To DOWNLOAD