Tapemasters Inc. - G-Unit, D-Block & Dipset: We Run NY
Submitted by mfizzel on Thu, 07/20/2006 - 4:47pm.
East Coast | Tapemasters Inc | Mixtape Torrents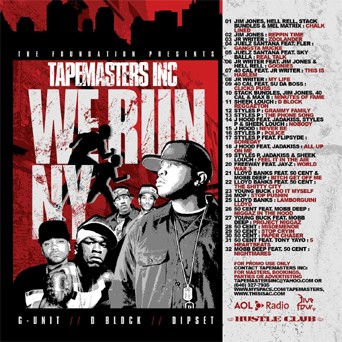 Tapemasters Inc. takes you to the streets of the Rotten Apple where the debate
never ends. Southside Queens is the land of G-Unit. Yonkers rydes for D-Block.
And Harlem is homebase for The Diplomats.
Clearly, this trio runs New York. From the hood to the 'burbs, they know their
music. In fact, you'll find any one of the groups on just about any mixtape in
the game.
Their names are all over this mixtape as We Run NY brings you new music from the
three supergroups. New music from 50 Cent, Jim Jones J.R. Writer, Young Buck,
Lloyd Banks, Sheek, Jada & J-Hood, Styles, 40 Cal & Lloyd Banks.

1 - Jim Jones, Hell Rell, Stack Bundles & Mel Matrix – Chalk Lined
2 - Jim Jones – Reppin Time
3 - J.R. Writer – Zoolander
4 - Juelz Santana feat. Fler – Gangsta Mucke
5 - Juelz Santana feat. Sky Balla – Real Talk
6 - J.R. Writer feat. Jim Jones & Hell Rell – Goonies
7 - 40 Cal feat. J.R. Writer – This Is Harlem
8 - J.R. Writer – My Life
9 - 40 Cal feat. Su Da Boss – Clicks Puss
10 - Stack Bundles, Jim Jones, 40 Cal & Max B – Minutes Of Fame
11 - Sheek Louch – D Block Reggaeton
12 - Styles P – Grammy Family
13 - Styles P – The Phone Song
14 - J-Hood feat. Jadakiss, Styles P & Sheek Louch – Nobody
15 - J-Hood – Never Be
16 - Styles P – Police
17 - Styles P feat. Flipsyde – Someday
18 - J-Hood feat. Jadakiss – All Up On Me
19 - Styles P, Jadakiss & Sheek Louch – Feel It In The Air
20 - Freeway feat. Jay-Z – World War 3
21 - Lloyd Banks feat. 50 Cent & Mobb Deep – Bitch Get Off Me
22 - Lloyd Banks feat. 50 Cent – The Shitty City
23 - Young Buck – Do It Myself
24 - Mop – Stop Pushin
25 - Lloyd Banks – Lamborguini Lloyd
26 - 50 Cent feat. Mobb Deep – Niggaz In The Hood
27 - Young Buck feat. Mobb Deep – Project Niggaz
28 - 50 Cent – Misdemenor
29 - 50 Cent – Stop Cryin
30 - 50 Cent – Paper Chaser
31 - 50 Cent feat. Tony Yayo – 5 Heartbeats
32 - Mobb Deep feat. 50 Cent – Nightmares
How To DOWNLOAD