TheFireMenDJs.com Presents Indie 360 Vol. 3 (Mixed By @SinisterShan)
Submitted by mfizzel on Tue, 01/03/2012 - 10:08am.
Unsigned Hype | DJ Sinister Shan | Mixtape Torrents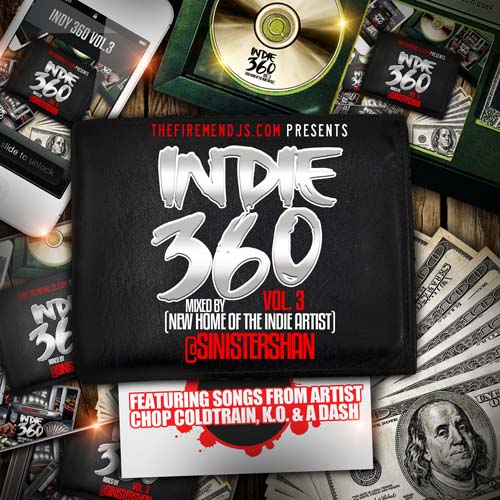 Sinister Shan of The Firemen DJ's is back with the 3rd volume of "INDIE 360", the Mixtape series that focuses 100% on the "Indie" artist. In 2012 look for a new volume of the hottest up and coming artists every month!
To submit your music for the next volume contact Shan @ (804) 868-6564 or send music to: SINISTERSHAN@GMAIL.COM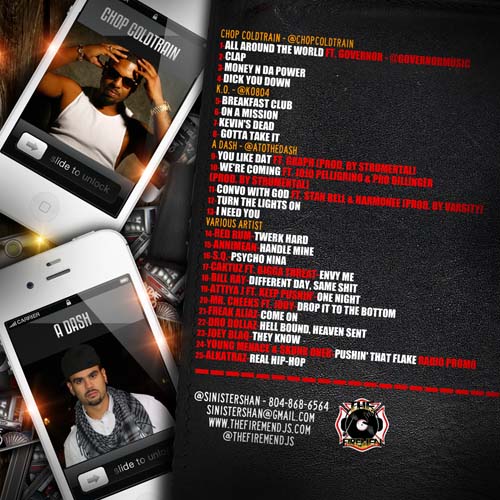 Chop Coldtrain - @Chopcoldtrain
1-All Around The World Ft. Governor - @Governormusic
2-Clap
3-Money N Da Power
4-Dick You Down
K.O. - @Ko804
5-Breakfast Club
6-On A Mission
7-Kevin's Dead
8- Gotta Take It
A Dash - @Atothedash
9-You Like Dat Ft. Graph (Prod. By Strumental)
10-We're Coming Ft. Jojo Pelligrino & Pro Dillinger (Prod. By Strumental)
11-Convo With God Ft. Stan Bell & Harmonee (Prod. By Varsity)
12-Turn The Lights On
13-I Need You
Various Artist
14-Red Rum-Twerk Hard
15-Annimean-Handle Mine
16-S.Q.-Psycho Nina
17-Caktuz Ft. Bigga Threat-Envy Me
18-Bill Ray-Different Day, Same Shit
19-Attiya J Ft. Keep Pushin'-One Night
20-Mr. Cheeks Ft. Jody-Drop It To The Bottom
21-Freak Aliaz-Come On
22-Dro Dollaz-Hell Bound, Heaven Sent
23-Joey Blaq-They Know
24-Young Menace & Skunk Oner-Pushin' That Flake Radio Promo
25-Alkatraz-Real Hip-Hop
How To DOWNLOAD