Wally Sparks & Talib Kweli - Brooklyn Tennesse
Submitted by method187 on Fri, 09/29/2006 - 9:47am.
East Coast | Wally Sparks | Mixtape Torrents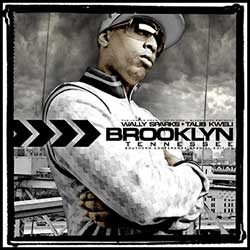 The 'BK Emcee' is no stranger to the mixtape
game, so when Talib Kweli decided to return
to the ring after a brief hiatus on the mic, it
was nothing short of a Beautiful Thing. Hooking
up with Tennessee mixtape titan Wally Sparks
on the other hand, now that was a little of
surprise.
Usually known for his Southern mixtapes,
Sparks branches out for this incredible
collaboration between the Brooklyn emcee and
'The Walter Crunkite' of mixtapes.
Nevertheless, this mixtape is nothing but heat,
including rare tracks, exclusives and original
remixes.
This mixtape is a Kwelity stash of incredible
music from one half of Blackstarr and one half
of Reflection Eternal. Which half is his better
side? You'll have to wait and see.

1 - Intro (Dub Floyd)
2 - Talib Kweli Intro
3 - Talib Kweli - Wally Sparks Freestyle
4 - Talib Kweli & T.I. - If Skills Sold (Wally Sparks Mix)
5 - Talib Kweli - Animal Lip (Wally Sparks Mix)
6 - Talib Kweli - Fallen Star
7 - Talib Kweli & Q-Tip - Listen (Sparks Fly Rmx)
8 - Black Folk Inc. - Monkey Brains
9 - Termanology & Big K.R.I.T. - Watch How It Go Down (Unofficial Rmx)
10 - Cassidy - It Is What It Is (Produced By Don Cannon)
11 - Talib Kweli Mutual Respect Interlude
12 - Talib Kweli, Hi-Tek & Jean Grae - The Shit I'm On
13 - Jean Grae - Exclusive (Produced By 9th Wonder)
14 - Talib Kweli Blacksmith Interlude
15 - Hi-Tek, Talib Kweli, Jadakiss, Papoose, & Raekwon - Where It Started (NYC)
16 - Ray Cash - Cash Rules
17 - Talib Kweli & Cory Mo - I'm With It (Hood Fame Preview)
18 - Strong Arm Steady feat. Chamillionaire & Rass Kass - You Ain't Me
19 - Talib Kweli & 4-Ize - Triangular Offense
20 - Obie Trice, Stat Quo, Bobby Creekwater, Kuniva & Cashis - Cry Now Rmx
21 - Talib Kweli The Foundation Interlude
22 - Hall Of Justus feat. Trae, Big Dho, Chaundon, Joe Scudda, Buddy Klein, & E.Jones - Jus Chillin
23 - Butta Team feat. Little Brother & Big Daddy Kane - Welcome 2 Durham
24 - Talib Kweli - UGK Interlude
25 - Talib Kweli & Bun B - None Of Us Are Free
26 - Talib Kweli & Asheru - Mood Swing
27 - Amanda Diva feat. Q-Tip - 40 Mc's
28 - Talib Kweli - Funny Money
29 - Talib Kweli Outro
30 - Talib Kweli - Stil Gettin By
31 - Natural Habitz feat. Fatman Scoop - Make Noize
32 - Hue Hef - The Streetz Iz Mine
How To DOWNLOAD