Young Lace - West Up Vol 2
Submitted by hardb0dy on Mon, 02/02/2009 - 8:08am.
West Coast | Mixtape Torrents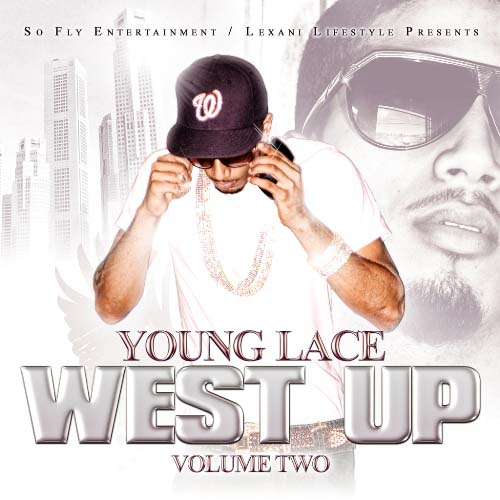 After introducing himself to the music industry by releasing his
trilogy called the "Mr. Los Angeles" saga which were hosted by
DJ Ill Will, DJ Rampage, and DJ Drama respectively, Young Lace
decided to begin a new saga with the "West Up" series. West Up
Vol. 1 was downloaded rapidly, and took the internet by storm... The
project was mixed by DJ Khaled, and JT whom is Young Lace's personal
engineer. The project sold over 2100 hard copies, was downloaded over
50,000 times over the internet, and was also featured on many of the
top blog sites today!
1. (00:03:22) Young Lace - Everybody Else feat. T-Pain
2. (00:01:30) Young Lace - Catch A Nigga Like Me
3. (00:03:00) Young Lace & Katalyst - What You Need (feat. Katalyst)
4. (00:02:02) Young Lace - Excuse Me Miss
5. (00:02:34) Young Lace - Like A Star
6. (00:05:57) Young Lace - I'm A Hoodstar
7. (00:02:50) Young Lace - Real Big feat. Katalyst
8. (00:02:31) Young Lace - Swing Ya Rag
9. (00:01:17) Young Lace - Trade it all (Freestyle)
10. (00:03:34) Young Lace - We So Fly
11. (00:02:19) Young Lace - Whip It (Freestyle)
12. (00:01:36) Young Lace - You's a Hoe (Freestyle)
13. (00:01:47) Young Lace - Ain't Gotta
14. (00:03:37) Young Lace - Bring It Back (feat. Katalyst)
15. (00:01:24) Young Lace - Curtain Call (Freestyle)
16. (00:03:30) Young Lace - Stunt Hard feat. J Flames
17. (00:02:12) Young Lace & Katalyst - Jockin (feat. Katalyst)
18. (00:03:41) Young Lace - Ma Money (feat. Lil Wayne)
19. (00:03:33) Young Lace - Gunz High (feat. Katalyst & B Eazy)
20. (00:02:19) Young Lace - Next 2 You
21. (00:02:16) Young Lace - I'm Illi
How To DOWNLOAD