50 Cent & 2Pac - Ride On Our Enemies
Submitted by mfizzel on Sun, 08/27/2006 - 11:31am.
Blends | Mixtape Torrents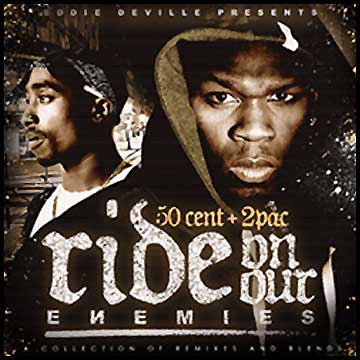 Ambitionz Of A Dope Remix Tape With Pac & Fifty:
This mixtape is a collection of blends & remixes from Eddie Deville
inspired by and paying tribute to Tupac and 50 Cent. With a bit of a
Southern twist, including a handful of blends and remixes from Dirty
South artists, this compilation bangs out from front to back. Remixing
the legendary Makaveli & 50 Cent throughout the entire CD, including
a couple of tracks together, this mix also features some major cameos.

01. (03:56) UGK - Smile
02. (01:25) Tupac - Dear Momma
03. (02:17) Paul Wall & Chamillionaire - The Other Day (Deville remix)
04. (02:49) Max Minelli - To the Max (Deville remix)
05. (00:56) 50 Cent - Big 50 (Deville remix)
06. (01:16) Slim Thug - Freestyle
07. (03:51) Biggie, Tupac, 50 Cent - Soul Survivin' (Deville remix)
08. (01:42) Tupac & 50 Cent - Ridin Presidential (Deville remix)
09. (01:15) 50 Cent - Hail Mary (Deville remix)
10. (00:51) Tupac - Window Shoppin' (Deville remix)
11. (01:10) B.G. - Window Shoppin in the Ghetto (Deville remix)
12. (01:01) 50 Cent - Gettin Around (Deville remix)
13. (00:37) Tupac - Baltimore Static (Deville remix)
14. (01:09) Juvenile - Pac Trick Shot (Deville remix)
15. (01:54) 50 Cent - California Dreamin (Deville remix)
16. (02:18) Tupac & Trick Daddy - Paid N Full (Deville remix)
17. (00:54) Tupac - Sunshine Don't Love Me (Deville remix)
18. (00:32) 50 Cent - Lil Bit of This (Deville remix)
19. (01:07) Young Jeezy - Bling Bling (Deville remix)
20. (03:32) Ill Tactics as 50 Cent, Jay-Z, Fabo, D4L, Tupac, Mike Jones,
& Himself - Rap Idol Part 2
21. (02:13) Big L & Tupac - Deadly Combo (Deville remix)
22. (03:56) Tupac & Kanye West - Changes in the Sky (Deville remix)
23. (07:03) Bonus - Swangin with Fat Pat (R.I.P.), HAWK (R.I.P.), Trae,
Tupac, Young Jeezy, Slim Thug (Deville remix)
How To DOWNLOAD