Clinton Sparks & Eminem - Anger Management 3
Submitted by mfizzel on Tue, 11/22/2005 - 7:59pm.
General | Clinton Sparks | Mixtape Torrents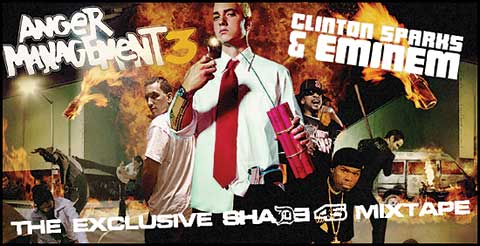 Clinton Sparks & Eminem team up to
bring you the biggest mixtape of the summer
as they promote the biggest concert of the summer,
the Anger Management Tour with headliners Em, 50 Cent,
Lil' Jon and many more of hip-hop's biggest names. This Instant
Vintage mixtape comes straight from Em's Sirius radio station
SHADE 45 and features 100% world-premieres and exclusive
records from the game's top artists. GET FAMILIAR!!
1 - Clinton Sparks feat. Eminem & Lil' Jon - Introduction
2 - Eminem - Anger Management [produced by Eminem]
3 - Eminem - Fubba U Cubba Cubba [produced by Eminem]
4 - Lloyd Banks - Gang Green [produced by The Alchemist]
5 - Mobb Deep - Poppin Bottles [produced by The Alchemist]
6 - G-Unit Radio on SHADE 45 with Whoo Kid & Tony Yayo feat. Donald Trump & 50 Cent
7 - Dr. Dre, Busta Rhymes & 50 Cent - I'm Sirius [produced by Clinton Sparks]
8 - Young Buck & Stat Quo - South Coast
9 - Eminem - Dirty Steve (skit)
10 - Juelz Santana - Smash Time Radio SHADE 45 Freestyle [produced by Clinton Sparks]
11 - Obie Trice & Eminem - Emulate [produced by Eminem]
12 - Slim Thug - Smash Time Radio SHADE 45 Freestyle
13 - Obie Trice & Stat Quo - Stay Bout It [produced by Mr. Porter]
14 - Cipha Sounds Effect with Cipha Sound & Angela Yee feat. Jay-Z
15 - David Banner feat. Marcus - 45 Survival
16 - Clipse feat. Ab-Liva & Sandman - Zen
17 - Mike Jones & Paul Wall - Smash Time Radio SHADE 45 Freestyle
18 - Ludacris - 3rd Infantry
19 - Kardinal Offishall - When I'm Angry [produced by The Alchemist]
20 - The All Out Show with Rude Jude & Lord Sear feat. Common
21 - Eminem & Trick Trick - Welcome To Detroit City [produced by Eminem]
22 - Stat Quo - Cock & Aim
23 - Talib Kweli - Manage Your Anger [produced by The Alchemist]
24 - M.O.P - Ratta Tatatta [produced by Clinton Sparks]
25 - The Diplomats feat. JR Writer & Hell Rell - Smash Time Radio SHADE 45 Freestyle
26 - Stat Quo - No Guts No Glory [produced by Clinton Sparks]
27 - Saigon - Out In The Park
28 - Obie Trice - 2nd Round [produced by Eminem]
29 - Common - Smash Time Radio SHADE 45 Freestyle [produced by Clinton Sparks]
30 - Stat Quo - 3, 2, 1 [produced by L.T. Moe]
31 - The All Out Show with Rude Jude & Lord Sear Relationships
32 - Runyon Ave. Soldiers feat. Mr. Porter, Young Who & III - Onions For Sale [produced by Mr. Porter]
33 - M.O.P. - Punks Jump Up
34 - Damian Marely feat. 2Pac, Nas & Scarface - Welcome 2 My Block (Clinton Sparks remix)
35 - Whoo Kid & Clinton Sparks - Boston Massacre
36 - Bizarre & Eminem - Hip-Hop [produced by Hi-Tek]
37 - Cipha Sounds Effect with Cipha Sound & Angela Yee B-Team (Skit)
38 - Ax - SHADE 45 Freestyle
How To DOWNLOAD