DJ Whoo Kid - Obie Trice: Bar Shots (Hosted By Eminem)
Submitted by mfizzel on Fri, 08/11/2006 - 4:01pm.
East Coast | DJ Whoo Kid | Mixtape Torrents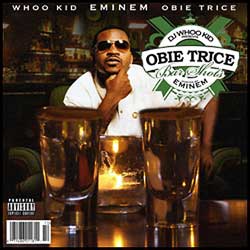 Keep the tab open, 'cause it's gonna be a lot of shots! You might as well call it Happy
Hour the way Obie Trice be throwing shots around the bar. With his sophomore release
on the way (Second Round's On Me), this mixtape has been a long time coming.
The first go-around, DJ Green Lantern took the reins. This time, DJ Whoo Kid is piloting
the Shady Records promo joint for host Eminem and the Shady family.
Featuring instrumentals from Swizz Beatz, including the hits ("Ruff Ryders Anthem,"
"Money, Cash, Hoes") and sleepers ("Jurassic Harlem").

1 - Eminem - Fuck Obie Skit
2 - Obie Trice feat. Kuniva (of D-12), Bobby Creekwater , Cashis, Stat Quo - Cry Now (remix)
3 - Obie Trice Big Herc, Trick Trick -There They Go
4 - Obie Trice - What You Want From Me [produced by Mike D & Juggnaught]
5 - Eminem - Public Service Announcement
6 - Obie Trice - Don't Be Switchin It Up
7 - Obie Trice feat. 50 Cent - Everywhere I Go
8 - Obie Trice - Spazzin [produced by Reef]
9 - These Faggot Ass Niggas Skit
10 - Obie Trice - You Could Be Slain [produced by Buckwild]
11 - Arab Unit Skit
12 - Obie Trice - They Wanna Kill Me
13 - Eminem & Whoo Kid Skit
14 - Obie Trice - Divine Intervention [produced by Alchemist]
15 - Obie Trice - My Life
16 - Arab Unit Skit #2
17 - Obie Trice - Look In Your Eyes
18 - Haters Skit
19 - Obie Trice - Haters
20 - Obie Trice - Jamaican Girl
21 - Obie Trice feat. Ray Ray -Nice To Meet You
22 - Eminem - Sada-Pop Outro
How To DOWNLOAD