Clinton Sparks - Smashtime Blends Vol. 8
Submitted by mfizzel on Sun, 02/05/2006 - 9:21pm.
Mixtape Directory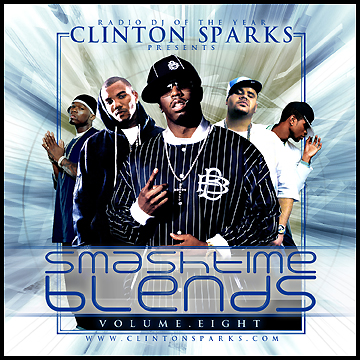 Clinton Sparks (Mix Show DJ of 2004) celebrates his title w/ this swift
display of skillz. Flexin' some of the best blends in the game, Mr. Get
Familiar smashes down this blends joint w/ remixes by 50, Game, T.I.,
Fat Joe, Fabolous, Cassidy, Jay-Z, Nas, Ludacris, Cam'ron, Kanye...

1 - Intro - Radio DJ Of The Year
2 - Fat Joe - So Much More (Smash Time blend)
3 - 50 Cent - Candy Shop (Smash Time blend)
4 - Mashonda, Game & Cassidy - Back Of The Club (Smash Time remix)
5 - Game, 50 Cent & Young Buck - How We Do (Smash Time blend)
6 - T.I. - Bring 'Em Out (Smash Time blend)
7 - Nicole Wray, Peedi Crakk & N.O.R.E - If I Was Your Girlfriend (Smash Time blend)
8 - , Fabolous & Cam'ron - Caught Up (Smash Time blend)
9 - Ciara & Missy - 1, 2 Step (Smash Time blend)
10 - Mario, Kanye West & Cassidy - Let Me Love You (Smash Time blend)
11 - Destiny's Child - Soldier (Smash Time blend)
12 - 50 Cent - Disco Inferno (Smash Time blend)
13 - Fat Joe & Fabolous - Safe 2 Say (Smash Time remix)
14 - Cassidy & Jay-Z - I'm A Hustler (Smash Time remix)
15 - Snoop & Pharrell - Drop It Like It's Hot (Smash Time blend)
16 - Ashanti, Nas & Ludacris - Only U (Smash Time blend)
17 - Ja Rule, Fat Joe & Jadakiss (Smash Time remix)
18 - Bobby V - Slow Down
19 - Cam'ron, Kanye West & Syleena Johnson - Down N Out (Smash Time blend)
20 - Ja Rule & - Wonderful (Smash Time blend)
21 - Amerie - One Thing
22 - Fabolous & I15 - My Bad
23 - Jay-Z - So Necessary
24 - Juelz Santana - S.A.N.T.A.N.A (Smash Time blend)
25 - Jim Jones, Juelz Santana & Cam'ron - Get Crunk Muzik (Smash Time blend)
26 - XL - Caught On Me
How To DOWNLOAD