Clinton Sparks - Smash Time Radio Blends Vol. 9: "Best in Business"
Submitted by mfizzel on Sun, 01/15/2006 - 9:06pm.
Blends | Clinton Sparks | Mixtape Torrents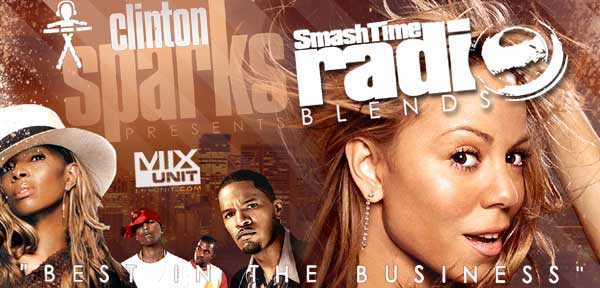 Clinton Sparks spent the end of 2005 adding the final touches on his latest blends creation and now it's time for you to GET FAMILIAR! Bringing you a new round of the "Best Blends In The Business," our very own C. Sparks drops that Smash Time Radio Blends, vol. 9, titled after his #1 SHADE 45 satellite radio show. With Mr. Get Famliar landing syndication deals from SupeRadio that will spread "Smash Time Radio" across the planet in 2006, this is your chance to get a listen to the hottest mix show DJ in the world. This mixtape brings you another round of hip-hop and R&B blends featuring Smash Time remixes with Kanye West, Fabolous, Paul Wall, 50 Cent, Mobb Deep, Busta Rhymes, T-Pain & Snoop Dogg, Pitbull, Mary J. Blige, Pharrell, Lil' Wayne, Notorious B.I.G., The Game, Don Omar, Young Jeezy, Jay-Z, Mariah Carey, Ying Yang Twins, Black Eyed Peas, Ne-Yo, Gwen Stefani & more.

1 - Intro
2 - Busta Rhymes - Touch It (Smash Time blend)
3 - 50 Cent & Mobb Deep - Have A Party (Smash Time blend)
4 - Pharrell & Gwen Stefani - Can I Have It Like That (Smash Time blend)
5 - Fabolous, Chris Brown And Juelz Santana - Run It (Smash Time blend)
6 - Ray-J & Fabolous - 1 Wish (Smash Time blend)
7 - Smitty, Lil' Wayne And Twista - Diamonds On My Neck (remix) (Smash Time blend)
8 - Kanye West - Golddigger (Smash Time blend)
9 - T-Pain & Snoop Dogg - Im Sprung (Smash Time blend)
10 - Anthology of Mary J. Blige (Clinton Sparks Blend Tribute)
11 - Ashlee Simpson (Interlude)
12 - 50 Cent - Window Shopper (Smash Time blend)
13 - Beyonce, Slim Thug & Bun B. - Check On It (Smash Time blend)
14 - Don Omar & Fabolous - Dale Don Dale (remix) (Smash Time blend)
15 - Game & Sharissa - I'm Heat (Smash Time blend)
16 - Ashanti, Paul Wall & Method Man - Still On It (Smash Time blend)
17 - Black Buddafly & Fabolous - Bad Girl
18 - Young Jeezy & Jay-Z - Go Crazy (Smash Time blend)
19 - Kanye West - Touch The Sky (Smash Time blend)
20 - Notorious B.I.G - Nasty Girl (Smash Time blend)
21 - Tommy Lee (Interlude)
22 - Black Eyed Peas - My Humps (Smash Time blend)
23 - Ying Yang Twins, Pitbull & Elephant Man - Shake remix (Smash Time blend)
24 - Tami Chynn - Hyperventilate [Clinton Sparks Dubplate]
25 - Mariah Carey, Jay-Z & Young Jeezy - Shake It Off (Smash Time blend)
26 - Mariah Carey & Juelz Santana - Dont Forget About Us (remix) (Smash Time blend)
27 - Jamie Foxx & Ludacris - Unpredictable (Smash Time blend)
28 - Gwen Stefani, Snoop Dogg, Slim Thug & Paul Wall - Luxurious (Clinton Sparks exclusive)
29 - Ne-Yo & Paul Wall - So Sick (Clinton Sparks remix)
30 - Ludacris & Field Mob - Georgia (Smash Time blend)
31 - Smash Time Radio (Get Familiar)
How To DOWNLOAD