Deuce Deuce - Double Or Nothing (Hosted By DJ Absolut)
Submitted by mfizzel on Wed, 08/13/2008 - 6:25am.
General | DJ Absolut | Mixtape Torrents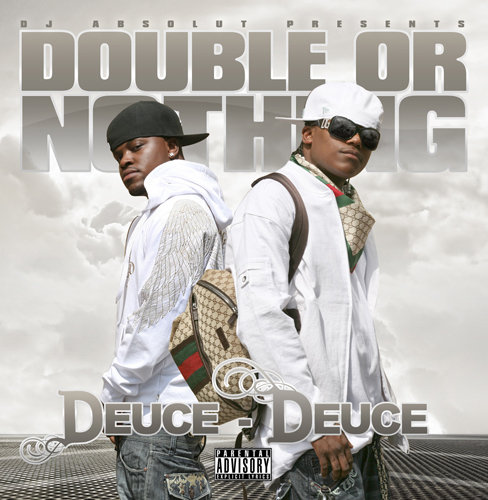 This tape contains 22 exclusive tracks produced by Beat Merchant,
including the hit single "So Fly" ft. Hakeem, "Keep It A Secret" and "Watching
Me". The speacial guests include Papoose, Uncle Murda, Mayhem Morearty,
Rochester, Tre Nice, Billz, Dee Blast, Hakeem, Trinity Chris, Adreena Mill and
much more...
1 - Double or Nothing (Intro)
2 - So Fly ft. Hakeem
3 - Play Your Cards ft. Uncle Murda
4 - Ain't Nothin Funny ft. Trinity Chris
5 - Brown Paper Bag ft. Papoose
6 - Around The Corner
7 - Keep It A Secret ft. Adreena Mill
8 - Watching Me ft. Kaleb Simmonds
9 - Clearly ft. Tre Nice
10 - Addicted
11 - Twisted
12 - Bout That ft. Rochester aka Juice
13 - Gang Member ft. Shake Safari
14 - Hardbody ft. Billz, DeeBlast & Vico
15 - Emergency Room ft. Mayhem Morearty
16 - Mind Made Up
17 - Foreign Exchange ft. Vico
18 - Work ft. G. Kai
19 - He Say, She Said
20 - Don't Touch Nothin'
21 - My Diary
22 - Paper Chaser
How To DOWNLOAD