DJ Big Mike- Big Boy Game 4
Submitted by mfizzel on Tue, 11/29/2005 - 12:19pm.
Mixtape Directory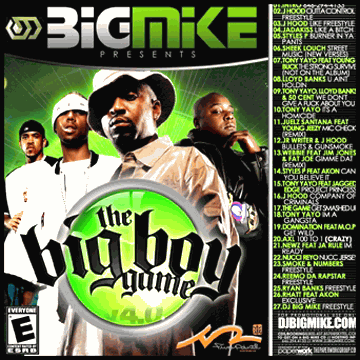 Big Mike is back on the grind again bringin' you the the exclusive
hip-hop tracks that keep you waitin' for him to drop. One of the hardest
working DJ's in the business hits you with fire by Styles P, Tony Yayo,
Game, J-Hood, Jadakiss, Lloyd Banks, Jim Jones, Fat Joe, Dipset...

1 - Intro -
2 - J Hood - Outta Control Freestyle
3 - J Hood - Like Freestyle
4 - Jadakiss - Like A Bitch
5 - Styles P - Burner In Ya Pants
6 - Sheek Louch - Street Music (New Verses)
7 - Tony Yayo Feat. Young Buck - The Strong Survive (Not On Album)
8 - Lloyd Banks - U Ain't Holdin
9 - Tony Yayo, Lloyd Banks, & 50 Cent - We Don't Give A Fuck About You
10 - Tony Yayo - It's A Homicide
11 - Julez Santana Feat. Young Jeezy - Mic Check (Remix)
12 - JR Writer & J Hood - Bullets & Gunsmoke
13 - Webbie Feat. Jim Jones& Fat Joe - Gimme Dat (Remix)
14 - Styles P Feat. Akon - Can U Believe It
15 - Tony Yayo Feat. Jagged Edge - Project Princess
16 - J Hood - Company Of Criminals
17 - The Game - Get Smashed Up
18 - Tony Yayo - I'm A Gangsta
19 - Domination Feat. M.O.P. - Get Wild
20 - Axl - 100 to 1
21 - Newz Feat. Ja Rule - I'm Ready
22 - Nucci Reyo - Nucc Jersey
23 - Smoke & Numbers - Freestyle
24 - Reemo Da Rapstar - Freestyle
25 - Ryan Banks - Freestyle
26 - Rhatt Feat. Akon - Exclusive
27 - DJ Big Mike - Freestyle
How To DOWNLOAD