DJ Bobby Black - Down & Dirty #19
Submitted by mfizzel on Tue, 06/27/2006 - 5:18am.
Dirty South | DJ Bobby Black | Mixtape Torrents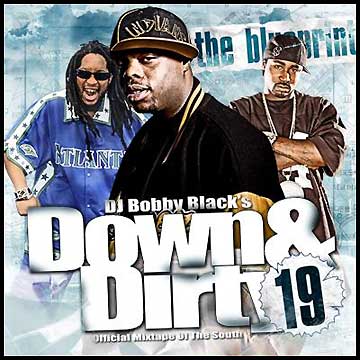 Bobby Black returns with another serving of one of the Dirty South's
most consistent mixtape series in the game, bringing all-new music from
some of the South's premier talents. Featuring new tracks, freestyles &
remixes from Slim Thug, Lil' Wayne, Three-6-Mafia, Ray Cash & Jay-Z,
8Ball & MJG, Lil' Jon, Slick Pulla & Blood Raw, Jody Breeze, Project Pat,
Yung Joc, Young Buck, Young Jeezy, Short Dawg, Paul Wall, Ice Cube.
1 - DJ Bobby Black's Blueprint Intro
2 - Ray Cash feat. Jay-Z - Bumpin My Music
3 - Cam'ron - It's Going Down Freestyle (Dissin' Jay-Z)
4 - Yung Joc feat. Ric Ross, Slim Thug, Jody Breeze - It's Going Down (remix)
5 - DJ Khaled feat. Slick Pulla, Blood Raw, Bun-B - Gangsta Shit
6 - Trigga Man feat. Gucci Mane - Triggaman
7 - Young Money feat. K-Rab - Shoulder Wurk
8 - Three Six Mafia feat. Kanye West, Project Pat, Bow-Wow -Side 2 Side (remix)
9 - Sunny Valentine feat. Yung Joc - Fuck You Pay Me
10 - Young Capone - Hey Lil' Momma
11 - Lil' Wayne feat. Baby - Stunnin Like My Daddy
12 - Young Noah feat. Short Dawg - Bring The Hoes Out
13 - 8-Ball & MJG feat. Freeway, Lil' Jon - Rep Ya Hood
14 - Ice Cube feat. Snoop Dogg, Lil' Jon - Go To Church
15 - Dogg Pound feat. Paul Wall - Make Dat Pussy Talk
16 - Daz feat. Kurupt - It's My Thang Freestyle
17 - Young Buck - In My Hood
18 - Young Buck - Let Em Hate Freestyle
19 - Young Jezzy - Ghetto Millionaire
20 - Terror Squad Feat Ric Ross - Let's Go
21 - Rich Boy - Throw Some D's
22 - Lil' D - Do Ya Dance (produced by DJ Shakim & Bow-Wow)
23 - Shawnna feat. Smoke (of Field Mob) - Damn
24 - Busta Rhymes feat. Rick James - Ghetto
25 - Stat Quo - Billion Bucks
How To DOWNLOAD