DJ Envy & Tapemasters Inc. - Purple Codeine #7
Submitted by mfizzel on Wed, 06/28/2006 - 8:32am.
Dirty South | Tapemasters Inc | Mixtape Torrents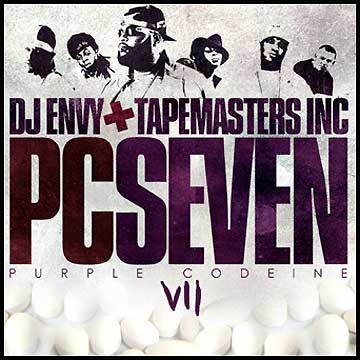 DJ Envy teams up with Tapemasters Inc. for the latest shipment of
the Purple Codeine mixtape series. They put nothing but the latest
tracks, freestyles and remixes from the Dirty South on this mixtape
which features Project Pat w/ Young Jeezy & Lyfe, Yung Joc w/ Rick
Ross, Slim Thug, Jody Breez & Diddy, Young Buck, Three 6 Mafia,
Stat Quo, Bun B, Chamillionaire w/ The Game & DJ Quik, T.I. & Eve.

1 - Blow - Rick Ross feat. Dre
2 - Can't Deny Me - T.I. feat. Eve (produced by Swizz Beatz)
3 - Port Of Miami - Rick Ross
4 - Gangsta Boyz - Boyz N Da Hood feat. Lil' Wayne & T.I.
5 - Tell - Project Pat feat. Young Jeezy & Lyfe
6 - It's Goin Down (remix) - Yung Joc feat. Rick Ross, Slim Thug, Jody Breeze & Diddy
7 - Let's Go - Rick Ross feat. Fat Joe
8 - Swerve Part 2 - Boosie feat. Webbie & Pimp C
9 - Stuntin Like My Daddy - Lil' Wayne & Baby
10 - I Know You See It - Yung Joc
11 - Get Throwed - Rick Ross & AC
12 - Ridin' Dirty (West Coast remix) - Chamillionaire feat. Game & DJ Quik
13 - Mia - DJ Khaled feat. Lil' Wayne
14 - Freestyle - Young Buck
15 - Eat Em Up, Beat Em Up - Field Mob
16 - Take It Slow - Shawnna feat. Ludacris, Missy & Bobby Valentino
17 - Hail To The King - Bun B
18 - Candy Paint - DJ Khaled feat. Slim Thug, Chamillionaire & Trina
19 - Ain't Gonna Let Up - Lil' Yola
20 - All These Hoes - Lil' Wayne feat. Curren$y
21 - Make Dat Pussy Talk - Paul Wall feat. Dogg Pound
22 - Billion Bucks - Stat Quo
23 - Freestyle - Three 6 Mafia
24 - In The Hood - Trae feat. Yung Joc
How To DOWNLOAD