Evil Empire - Be South #11: Power Of The Co-Sign
Submitted by mfizzel on Thu, 05/25/2006 - 2:10pm.
Dirty South | Evil Empire | Mixtape Torrents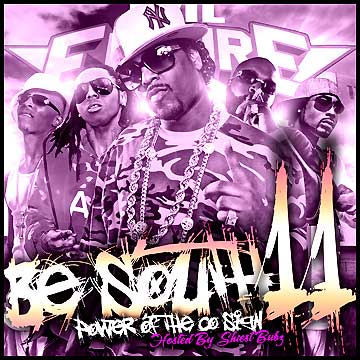 Down South Suppliers Evil Empire team up with Shiest Bubz, the head
piff-blower over at Purple City. Showing you that the Dirty South has
love for the PCP, Bub "Barker" premieres his track with B.G. titled "Bank
Rolls" as well as new music from Bun B, DJ Drama & Lil' Wayne, Slim
Thug, Outkast, Khaled/Trick Daddy/Pitbull/Rick Ross, Dem Franchize
Boyz, Three-6-Mafia, Lil' Flip, Project Pat, B.G., Paul Wall & GRiT Boys.

1 - T.I. - Message To The Goverment [not on album]
2 - Shiest Bubz feat. B.G. - Bank Rolls
3 - Ray Cash feat. T.I., Pimp C, Project Pat & Young Dro - Bumpin My Music (remix)
4 - Bun B - Freaky
5 - DJ Khaled feat. Trick Daddy, Rick Ross & Pitbull - Born N Raised
6 - DJ Drama feat. Lil' Wayne, Freeway, Replacementz & Willie The Kid (Cannon remix)
7 - Paul Wall feat. Gritboys - Bang Flow
8 - Jae Millz feat. Lil' Wayne & Fabolous - Bring It Back remix
9 - BG - Shutdown [not on album]
10 - Corey Gunz feat. Lil' Wayne - I Gotcha (produced by Just Blaze)
11 - Slim Thug - Make A Pimp Rich Flow
12 - Outkast - The Mighty O
13 - Question - Midget In Da Trunk
14 - Three 6 Mafia feat. Project Pat & Bow Wow - Side 2 Side (remix)
15 - Lil' Flip feat. Below Zero - New Era
16 - Joe feat. Young Buck & Tony Yayo - Like Me
17 - Lil' Wayne feat. Bobby Valentino - Grownman (R&B remix)
18 - Brooke Hogen feat. Paul Wall - About Us
19 - T Pain feat. Lil' Wayne - Studio Luv (remix)
20 - Mariah Carey feat. Dem Franchize Boyz - Say Something (remix)
21 - Shiest Bunbz feat. Kiotti - Trap Nigga (H - Town remix)
How To DOWNLOAD