DJ Burn One - Gorilla In Da Trunk #8 (Hosted By Young Joc)
Submitted by mfizzel on Fri, 05/26/2006 - 2:34am.
Dirty South | DJ Burn One | Mixtape Torrents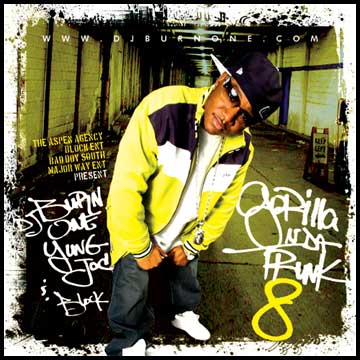 DJ Burn One catches Young Joc in the hood, the mall, the club and
everywhere else you might find the latest hood star signed to Diddy's
Bad Boy South. Knuckle up on this joint hosted by Atlanta's anticipated
young trapper as Burn One & Joc bring you exclusive Joc, Gucci Mane,
Jody Breeze, Backwudz & Bun B, Bohagon, Killer Mike, P$C & Eva Trill.

1 - DJ Burn One - One Day Dedication to Philant & Hawk R.I.P.
2 - Yung Joc - Do Ya Bad
3 - Yung Joc - Intro
4 - Jody Breeze - No Standing Ovation
5 - Gucci Mane Speaks
6 - Gucci Mane - Shook Them Haters Off (Dissin' Big Cat & Rasheeda)
7 - Block - Intro
8 - MacBoney. Alfamega. C - Rod & Khao - Grand Hustle G8 Freestyle
9 - Eva Trill feat. Gucci Mane - Drop It Off (produced by Zaytoven)
10 - Roland Powell Speaks
11 - Da Backwudz feat. Bun B & Caz Clay - I Don't Like The Look Of It (remix) (produced by DJ Montay)
12 - Bohagon - G8 Freestyle
13 - Yung Joc - Interlude 1
14 - Yung Joc feat. Short Dawg - Patron
15 - Homebwoi feat. Killer Mike - Back To The Block
16 - Khao - Grand Hustle Beat Maker
17 - K.D. - Polo & Nikes
18 - Suga Suga Speaks
19 - Suga Suga - Watch Me Roll (produced by DJ Toomp)
20 - Milwaukee Black - Major Way Interlude
21 - Caz Clay feat. Da Backwudz - Hey DJ (produced by Milwaukee Black)
22 - Yung Joc - World Premier Interlude
23 - Yung Joc feat. Eva Trill - Uh Huh (produced by Mr. DJ)
24 - Bohagon feat. Playboy Tre & Loony T - Jealous Girl (produced by Homebwoi)
25 - Caz Clay - G8 Freestyle
26 - Marc Decoca Speaks
27 - Marc Decoca & The White Horse Cartel - Fuck You
28 - I'm A Star (Jasper & Reese) - Whip It
29 - Block - Outro
30 - Yung Joc - Outro (produced by CHOPS)
How To DOWNLOAD