Wally Sparks & BME Recordings - Sharks In The Water (Hosted By Bohagon)
Submitted by mfizzel on Thu, 08/10/2006 - 1:07pm.
Dirty South | Wally Sparks | Mixtape Torrents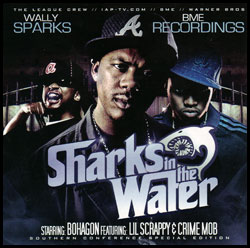 The 'Tennessee Mixtape Titan' Wally Sparks
teams up with Lil' Jon's BME Recordings and his
latest ATL superstar Bohagon to bring you the
2nd of 3 Bohagon joints this week.
With DJ Smallz already dropping Who Am I? I'm
Bohagon and The Aphilliates' The Power Move on
the way, Sparks and BME bring you this vicious
mixtape from ATL's newest happening.
This CD is hosted by Bohagon and features
recent joints, classics and exclusives not found
on the other Bohagon joints. This joint also
features guest shots by Lil' Scrappy, Lil' Jon,
Young Buck, D4L & Crime Mob, K-Rab/BHI, E-40,
Yo Gotti and more.

1 - Bohagon Intro
2 - Bohagon & Lil' Jon - Get Crunk (Club Classic)
3 - Bohagon Freestyle
4 - Lil' Scrappy & Young Buck - Money In The Bank
5 - Lil' Scrappy Checks In
6 - Crime Mob - Who I Be
7 - Princess Checks In
8 - Bohagon feat. Crime Mob & D4L - Wuz Up
9 - Bohagon - Fuck You
10 - Crime Mob & Lil' Scrappy - Rock Yo Hips remix
11 - Bohagon Checks In
12 - Bohagon - The Streets (Hood Classic)
13 - Bohagon & Lil' Scrappy - Yean Know
14 - Bohagon, KB, Young Buck & Khia - I'm Scared Of You
15 - Bohagon & Born Wit It - Fresh (produced by Doc Jam)
16 - Bohagon & Yo Gotti - What It Is
17 - Bohagon, Lil' Scrappy & E-40 - Pussy Niggaz
18 - Bohagon & Xtaci (Grand Hustle) - You Don't
19 - Bohagon & Lil' Scrappy - Money In The Hood
20 - Trillville - Man Up (produced by Doc Jam & Lil' Jay)
21 - Lil' Jon & BHI feat. K-Rab - Snap Yo Fingaz remix
22 - BHI feat. K-Rab & Lil' Jon - Do It Do It (Poole Palace)
23 - Crime Mob - Knuck If U Buck 2006 (produced by Doc Jam)
24 - Bohagon Outro
25 - Bohagon & Playboy Tre - Jealous Girl
26 - Bohagon & Jagged Edge - So Amazing (Lil' Jon remix)
How To DOWNLOAD