DJ Chuck T - Down South Slangin' #27: Addicted To The Game
Submitted by mfizzel on Mon, 07/03/2006 - 6:44pm.
Dirty South | DJ Chuck T | Mixtape Torrents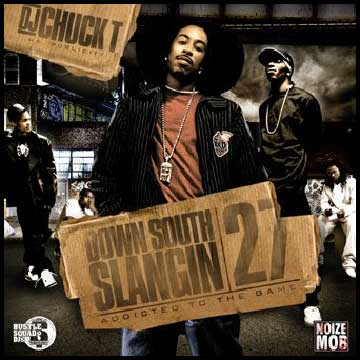 DJ Chuck T drops the 27th Down South Slagin and it is no secret that
he is addicted to the game. This S. Carolina representative releases the
new diss track by Gucci Mane who goes at Young Jeezy & Jay-Z, not
to mention some major new Dirty South tracks featuring Lil' Wayne &
Baby, Rick Ross & Dre, T.I. & Eve, Three 6 Mafia w/ Kanye West &
Project Pat, Magno, Ludacris, B.G., BoneCrusher, David Banner & Yola.

1 - Down South Slangin' (Full Song) - Sqad Up
2 - Get It Bitch - Fiend
3 - Relax and Take Notes - 8Ball & MJG feat. Notorious B.I.G.
4 - Duck Down - Trick Daddy feat. Piles & Notorious B.I.G.
5 - Stuntin' Like My Daddy - Lil' Wayne feat. Baby
6 - Rookie Of The Year - Jody Breeze
7 - Side 2 Side RMX - Three 6 Mafia feat. Kanye West & Project Pat
8 - U Can't See Me - T.I. feat. Eve
9 - Right Quick - Attitude
10 - See Me In Da Streets - B.G.
11 - Blow - Rick Ross feat. Dre
12 - Do Ya Thang - Roam Bad Daddy
13 - I Just Want The Paper - Plies feat. Notorious B.I.G.
14 - Sellin' Good - Homebwoi feat. Bun-B
15 - Lokes - Big Kuntry (Of P$C)
16 - Ambulances - Khujo Goodie
17 - Get Money - David Banner feat. Yola
18 - Kiotti & Young Ink - Freestyle
19 - Roll It, Light It - Fiend
20 - Dat Good - Pimp C feat. Mr. Marcello
21 - Southern Gorillaz - BoneCrusher
22 - Shovelin' Snow - Baby feat. Currensy & Mack Maine
23 - 745 (Dissin' Young Jeezy & Jay-Z) - Gucci Mane
24 - How We Do - Webbie feat. Lil' KeKe
25 - Sippin' - Magno
26 - Tell - Project Pat feat. Young Jeezy, Mr. Bigg & Lyfe
27 - War With God - Ludacris
28 - Pushin' Hard - Grandaddy Souf
How To DOWNLOAD