DJ Chuck T Presents - Down South Slangin' Instrumentals Vol. 7
Submitted by mfizzel on Sun, 08/20/2006 - 9:21am.
Dirty South | DJ Chuck T | Mixtape Torrents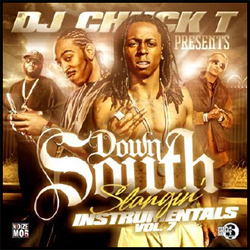 The Carolina King DJ Chuck T blesses us with his
newest instrumental compilation. The seventh
edition of the Down South Slangin' Instrumentals
series, this tape features 30 bangin' beats from
the hottest Dirty South artists and producers in
the game.
This mixtape features 30 instrumentals from the
Durty, including bangers from Rick Ross, Baby,
Lil' Wayne, T.I., Dre (Cool & Dre), Outkast,
Gnarls Barkley, David Banner, Chamillionaire,
Young Buck, Ludacris, Young Joc, and more.

1 - Cadilliac - Trae feat. Three Six Mafia and Paul Wall
2 - Push It - Rick Ross
3 - Stuntin' Like My Daddy - Baby & Lil' Wayne
4 - Top Back - T.I.
5 - Chevy Ridin' High (remix) - Dre feat. Rick Ross, Game, Dirtbag & Clipse
6 - Minute Plan (Phone Song) - Kiotti
7 - Morris Brown - Outkast
8 - Rookie Of the Year (remix) - Jody Breeze feat. Lil' Wayne
9 - Good Googly Moogly - Project Pat feat. Three Six Mafia
10 - Ridin' High - Eightball & MJG
11 - Crazy - Gnarls Barkley
12 - Get Money - David Banner feat. Lil' Yola
13 - Idlewild Blue - Outkast
14 - Grown & Sexy - Chamillionaire
15 - Side To Side (remix) - Three Six Mafia feat. Bow Wow
16 - I Know You Want That - Big Tuck feat. Chamillionaire & Tum Tum
17 - Hustle Muzik - Lil' Wayne
18 - Shoulder Lean - Young Dro feat. T.I.
19 - Stackin' - Trillville feat. Three Six Mafia
20 - Money Maker - Ludacris feat. Pharell
21 - Money In Da Bank - Lil' Scrappy feat. Young Buck
22 - I Know You See It - Young Joc
23 - Ain't Gonna Let Up - Lil' Yola
24 - Blow - Rick Ross feat. Dre
25 - Do It Myself - Young Buck feat. 50 Cent
26 - Im Da Man (remix) - Shawty Lo (D4L) feat. Rick Ross, Young Joc, and Lil' Wayne
27 - Margarita - Sleepy Brown feat. Big Boi
28 - U Can't See Me - Big Tuck
29 - Duck Down - Trick Daddy feat. Plies & Notorious B.I.G
30 - Where Da Cash At - Curren$y feat. Lil' Wayne & Remy Ma
How To DOWNLOAD