DJ 31 Degreez & DJ G-Spot - Inspired By The South #10
Submitted by mfizzel on Tue, 10/10/2006 - 9:40am.
Dirty South | DJ 31 Degreez | Mixtape Torrents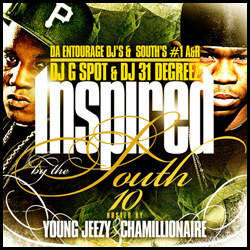 DJ 31 Degreez and DJ G. Spot get inspired to this Southern mixtape from this
dope mixtape pairing. G. Spot plays that good music and 31 is gunning for the
baddst Southern DJs in the game.
1 - Young Jeezy & Chamillionaire - Street Champions
2 - Lil' Wayne & Juelz Santana, Jadakiss - Rewind (remix)
3 - Ludacris & Jadakiss - You Want More?
4 - Young Buck - Ride
5 - Jim Jones & Baby - We Fly High (remix)
6 - Chamillionaire - The Blast
7 - Paul Wall - Stay True
8 - Kiotti - Down For My Block
9 - Lil' Wayne - Ak Music
10 - Ludacris, Beanie Sigel, Pimp C, C Murder - Do Your Time
11 - Trick Daddy & Chamillionaire - Bet Tha
12 - T.I. - Pimp's Love
13 - Rick Ross - In My LIfe
14 - Ray Cash & Lil' Wayne - Get That Hustle Up
15 - Roam Bad Daddy - Do Nothing
16 - Gillie Da Kid - Frontin Like Ya Daddy (Dissin' Lil' Wayne)
17 - La Chat - Momma Drama
18 - Lil' Scrappy, J-Bo, Khujo Goodie - Money In The Bank (remix)
19 - Grandaddy Souf - Make It Rain
20 - Maceo feat. Fats - Trafficking
21 - Rich Boy - Throw Some D's (G Spot remix)
22 - Young Jeezy - Interlude
23 - The Replacementz - Yessur
24 - Big Kuntry - Loked Out
25 - Big Tuck & Chamillionaire - I Know You Want That
26 - Young Jeezy & Bloodraw - My Homies
27 - Jibbs, Lil' Wayne, Yung Joc, Rich Boy, Lil' Mont - Chain Hang Low (remix)
28 - Lil' Wayne & Jody Breeze - Dippin From The Cops
29 - Young Jeezy - Outro
How To DOWNLOAD