DJ Chuck T - Down South Slangin' #28 (Hosted By David Banner)
Submitted by mfizzel on Fri, 08/04/2006 - 2:15pm.
Dirty South | DJ Chuck T | Mixtape Torrents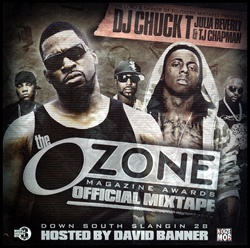 The Carolina King DJ Chuck T is back with another installment in his ever-popular
Down South Slangin' Series. This time joining forces with Ozone Magazine's Julia
Beverly and TJ Chapman, they present the official Award Show mixtape for Benzino's
favorite publication.
Mississippi's favorite son, David Banner, comes along for the ride to handle hosting
duties for both the mixtape and the awards ceremony, slated for August 6th. With all
of the biggest names in the Dirty South coming together under one roof, this mixtape
is definitely one you shouldn't sleep on.
Featuring new Dirty South tracks, freestyles and remixes from Ludacris, Lil' Wayne,
Young Buck, Young Jeezy, Rick Ross, Field Mob, Magno, Sqad Up, Lil' Flip, Pimp C,
Fat Joe, Clipse, Pharrell, and more.
1 - David Banner Intro
2 - Tell It Like It Is - Ludacris
3 - Stealin' - Young Buck
4 - I Do This - Young Jeezy
5 - Push It - Rick Ross
6 - Rock - Crime Mob feat. Lil' Scrappy
7 - Where My Money - Rick Ross
8 - It Feels Good - Blood Raw feat. Field Mob
9 - All These Hoes - Lil' Wayne feat. Currensy
10 - Key My Car - Magno
11 - Beatin' Down Yo Block - Lil' Scrappy
12 - In These Streets - Lil Keke feat. Crystal
13 - Chevy Rider - Blood Raw
14 - Can't You Tell - Lil' Flip feat. MJG & Sqad Up
15 - Do It Myself - Young Buck feat. 50 Cent
16 - Under Dog - Big Kuntry King (P$C)
17 - Ozone Awards Commercial 2 (David Banner)
18 - Y'all Ain't Gettin No Money - Trilltown Mafia feat. Don-P
19 - Chevy Ridin' (RMX) - Dre feat. Rick Ross, Fat Joe, Clipse, and Dirtbag
20 - Bobby & Whitney - Pimp C feat. 8-Ball
21 - 100 Yard Dash - Young Dro feat. Xtaci
22 - Who Me - Sqad Up
23 - Gangsta Theft Auto - Kiotti
24 - Overstand Me - Pimp C feat. Chamillionaire & Trae
25 - Work - Mackboney (P$C)
26 - I Pop - Trick Daddy
27 - Make It Rain - Don P
28 - Money Maker - Ludacris feat. Pharrell
29 - Boss - Rick Ross feat. Dre
30 - Wamp Wamp What It Do - Clipse feat. Pharrell
31 - David Banner Outro
How To DOWNLOAD