DJ Decko & DJ Ghost - Modern Day Marvels 4 (CD & DVD)
Submitted by jada1212 on Sat, 10/18/2008 - 6:41pm.
General | DJ Decko | Mixtape Torrents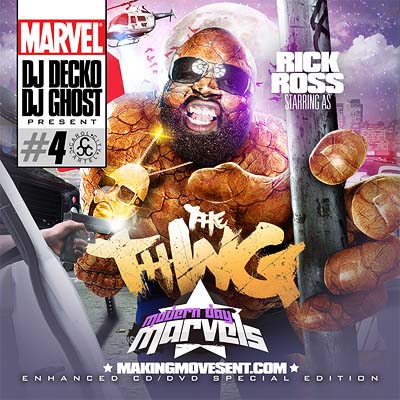 Download VLC Media Player (Free) to watch this DVD
Its a cd/dvd that plays on a flash media player (the download comes with one).
Burn the mixtape in mixed mode format in your burning software to enjoy the
additional footage on your computer.
01. Paper Planes Ft. M.I.A.
02. Bullet Ft. Baby Cham
03. Dope Boys (Freestyle)
04. Donk Bossin (Big Steve Gee Blend)
05. Swagger Like Us (Freestyle)
06. Arab Money Ft. Ron Browz & Busta Rhymes (Remix)
07. Make The World Go Round Ft. Game & Nas(Remix)
08. Go Ahead Ft. Fabolous, Flo Rida, Fat Joe & Llyod
09. Here I Am Ft. 50 Cent & Avery Storm (Dj Rob Dinero Remix)
10. Girls Love Me Ft. Bangladesh & Busta Rhymes
11. I Believe Ft. Jay Z (Exclusive)
12. Uh Huh Ft. Alfamega, Bun B & T.I. (Remix)
13. Vibin Ft. Dj Khaled, Lil Boosie, Ace Hood & Piccalo
14. Jockin Jay Z(Remix) Ft Jay Z
15. Addiction (Remix)
16. Comfortable (Freestyle)
17. Sun Come Up Ft. Birdman, T-Pain & Glasses Malone
18. Magic Ft Robin Thicke & Mary J Blige (Remix)
19. Grow Up Ft. Pussy Cat Dolls(Remix)
20. H Town (Freestyle)
21. That Oprah Ft. Swizz Beats (Remix)
22. Blood Money Ft. Dj Khaled, Brisco, Ace Hood & Birdman
23. Out Here Grindin Ft. Akon, Ace Hood, Plies, Lil Boosie (Remix)
How To DOWNLOAD