DJ Diggz - Jadakiss: D-Blocks Front Man
Submitted by mfizzel on Fri, 09/22/2006 - 8:39pm.
East Coast | DJ Diggz | Mixtape Torrents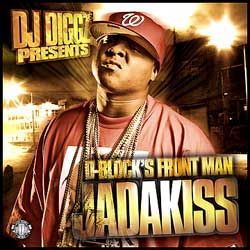 The raspy-flow'd veteran from Yonkers, the
home of The L.O.X. and D-Block and the home
of one of the 'Top 5 Dead Or Alive': Jadakiss.
No matter how many times you dice it up, a
J.A.D.A. mixtape never gets boring so when
you actually find a dee jay to put work into
one...then you've got something.
DJ Diggz takes you 60 tracks deep with The
Kiss Of Death as the freestyle freak and lyrical
assassin go hard for more than 70 minutes.
This mix features new/classic freestyles and
D-Block anthems.

1 - Blackin Out
2 - The Summer's Over
3 - Exclusive
4 - It's Personal
5 - Nobody
6 - Turn It Up
7 - Thug It Out
8 - D Block (remix)
9 - Vinny Idol Freestyle
10 - Feel It In The Air
11 - The Problem
12 - All 4 Love
13 - Kiss Of Death
14 - My Name Is Kiss
15 - Can I Live
16 - Breath Easy
17 - Serious Threat
18 - Kiss
19 - Stop Snitchin
20 - Chest To Chest
21 - Niggaz Done Started
22 - None Of Ya'll Better
23 - Gun On My Waist
24 - Resevoir Dogs
25 - Fresh On The Block
26 - Go Head
27 - Xperience
28 - Last Days
29 - Holla At Me
30 - Here We Go Again
31 - Air It Out
32 - Blood Pressure
33 - Dope Money feat. Styles
34 - Life In The Fastlane
35 - Gun Gun Bang feat. Styles
36 - Time
37 - Problem Child
38 - World War 3
39 - The Illes
40 - We Thugs My Nigga feat. Styles
41 - Tommy's Theme feat. Styles
42 - Look In My Eyes
43 - Kiss Of Death Freestyle 1
44 - Kiss Of Death Freestyle 2
45 - Can I Talk feat. Cassidy
46 - 17 Shots feat. Drag On
47 - Banned From TV feat. Styles
48 - Stop Playin Games
49 - One Of Ours
50 - Bust Your Gun
51 - My Lifetime
52 - Hate In Blood
53 - Niggas
54 - Rawness
55 - When Kiss Is Spittin
56 - Ryde For My Niggas
57 - Professional Shit
58 - Keepin It Gangsta feat. Styles
59 - After Taxes Freestyle
60 - Pain
61 - The Essence
How To DOWNLOAD