DJ Drama - Gangsta Grillz Legends, Vol.2: 8Ball & MJG
Submitted by mfizzel on Sat, 02/18/2006 - 8:27am.
Mixtape Directory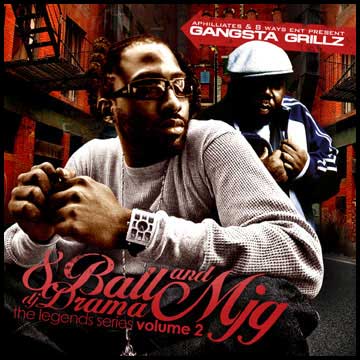 DJ Drama gets Gangsta with the Dirty South legends, 8Ball & MJG as
these two crazy muthafuc*as get nuts on this exclusives-filled mixtape
from these rap veterans. Heavy in the game for a decade-plus, this duo
gets their shine on w/ all-new tracks/freestyles — hosted by P. Diddy.
1 - P. Diddy Legendary Intro
2 - We Dem Boyz
3 - MJG Welcomes You Youngsters
4 - Aight Now feat. Mack-E
5 - 8Ball Speaks
6 - Really Care Feat. The Oulawz
7 - In My Hood
8 - World Keep Spinnin
9 - Respect That
10 - We Aint Gon Change feat. Juvenile
11 - Chromey 24's feat. Bun-B., Mac-E, Loko
12 - Can U See It feat. Money Rome
13 - MJG Speaks
14 - My Pimpin
15 - Guerilla Pimpin feat. Killer Mike
16 - Phacade feat. Scarface
17 - Thought I Told U
18 - Go Hard
19 - OhWee feat. Lil Wayne
20 - Choke'm Out
21 - Kool Aid feat. South Circle
How To DOWNLOAD