Wally Sparks - 8Ball & MJG: Tennessee Pimpin
Submitted by mfizzel on Thu, 08/10/2006 - 7:43am.
Dirty South | Wally Sparks | Mixtape Torrents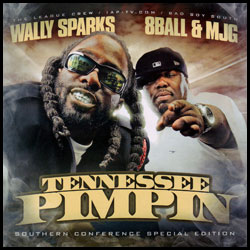 DJ Wally Sparks aka. 'The Tennessee Mixtape
Titan' is proud to bring you a mixtape featuring
two rappers he undoubtedly grew up listening
to: his hometown rap heroes 8Ball & MJG.
This Southern Conference Special Edition
mixtape serves as a mixtape prelude to the duo's
upcoming Bad Boy sophomore release Pure
American Pimpin' (due out later this year).
This mixtape includes exclusive leaks off their
upcoming album as well as recent bangers +
cameos from 'The Fat Mac' (8Ball) and 'Pimp
Tight' (MJG).

1 - Sparks Fly Intro
2 - 8Ball & MJG Intro
3 - 8Ball & MJG - Dem Orange Mound Boyz
4 - 8Ball & MJG feat. Project Pat - Relax & Take Notes
5 - 8Ball & MJG - Outfit
6 - 8Ball & MJG feat. Shawnna - Candy Coated
7 - MJG & Jack Boyz - Make It Rain
8 - MJG & Da Volunteers - What's Your Favorite Color
9 - 8Ball & MJG feat. Tela & Jazzy Pha - For The Love Of The Game
10 - 8Ball & David Banner feat. Jazzy Pha - My Gun
11 - 8Ball & MJG feat. Pimp C - Grown Man Shit
12 - 8Ball & MJG feat. Field Mob - 123
13 - 8Ball & MJG feat. Pimp C - Bobby & Whitney
14 - 8Ball & MJG - Sparks Flt Smokebreak
15 - 8Ball & MJG - Fuck That
16 - 8Ball & MJG feat. Stacks - I'm On
17 - 8Ball & MJG feat. Bun B & Slim Thug - The Real
18 - 8Ball & MJG feat. Romey Rome - In The Club Rmx
19 - 8Ball - You Know Its Us
20 - 8Ball & MJG feat. Playaz Circle - Bitch Chill
21 - MJG & Lil Flip - Can't You Tell
22 - 8Ball & MJG - Outro
23 - 8Ball & MJG feat. Kandi - I Need
24 - 8Ball & MJG - Ridin High
How To DOWNLOAD