DJ Drama - Little Brother: Seperate But Equal
Submitted by mfizzel on Wed, 03/22/2006 - 8:32pm.
Mixtape Directory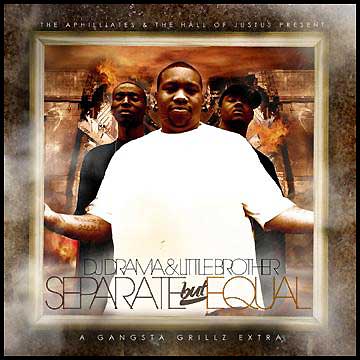 Drama and the South's premier underground collective Little
Brother (triple threat Rapper Big Pooh, Phonte & producer 9th
Wonder) gets up in your ear with the hip-hop sound that has the
entire industry at attention. With a unique Southern sound, this
rare mixtape reps real hip-hop from the heart of North Carolina.

1 - Seperate But Equal
2 - Knock Knock
3 - Don't Trust 'Em Sequel
4 - Cross That Line feat. Big Treal
5 - Let It Go feat. Mos Def
6 - Can't Let Her
7 - The Singing Bums Skit
8 - Rollin Out feat. Supastition
9 - Macaroni
10 - Can We Get A Freestyle Please???
11 - On My G (Big Pooh)
12 - Hate (Phone)
13 - Lovin It feat. Joe Scudda
14 - Not Enough feat. Darien Brockington
15 - Boondock Saints feat. L.E.G.A.C.Y. & Chaundon
16 - Teedra Mosis & MySpace Skit
17 - Home feat. Joe Scudda
18 - Horror Movie Skit
19 - I Need You
20 - Candy feat. Bun B & Darien Brockington
21 - How Did This Happen???
22 - Speed Racin feat. Skyzoo & Chaundon
Props PLAT1NUM
How To DOWNLOAD