DJ E.NYCE - Nothing But Freestyles Pt. 6
Submitted by mfizzel on Mon, 07/24/2006 - 4:38pm.
General | DJ E.Nyce | Mixtape Torrents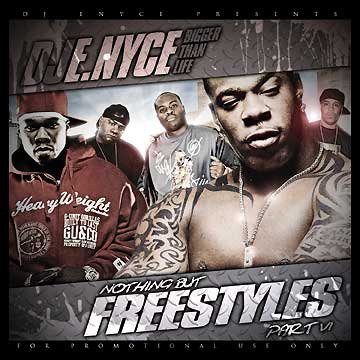 Meant to post this 2 days ago, sorry :)

DJ E.NYCE is back with the mixtape fan favorite: the Nothing But Freestyles
edition mixtape. With a lineup like the title would indicate, this mixtape
features only the flyest and newest freestyles around.
This is the 6th round of the beat-jacking series, and this one locks in 40
freestyles in total. Taking you from NYC to the Dirty South to the Golden
State, this mixtape features freestyles from just about everybody.
Featuring 16's from Fabolous, Lupe Fiasco, Lil' Wayne, T.I., The Clipse,
50 Cent, Raekwon, Rick Ross, Posta Boy, Beanie Sigel, The Game, Talib Kweli
and more.

1 - Jim Jones Intro
2 - Arlis Michaels & Jay Starr Freestyle
3 - Lupe Fiasco Freestyle
4 - Beanie Sigel Freestyle
5 - Peedi Crakk Freestyle
6 - Lil' Wayne Freestyle
7 - Red Cafe Freestyle
8 - Max B Freestyle
9 - T.I. Freestyle
10 - Fabolous Freestyle
11 - Jae Millz Freestyle
12 - Busta Rhymes & Labba
13 - Fat Joe Freestyle
14 - Elliott Ness Freestyle
15 - Lord Tariq Freestyle
16 - Cory Gunz, Cashmere, Jay Starr, & Rain Freestyle
17 - 50 Cent Freestyle
18 - Vein & Prinz Freestyle
19 - Mr. Wreck & Vain (Gutta Muzic) Freestyle
20 - Jae Millz & Al-Doe (S.W.A.T. Team) Freestyle
21 - Joe Budden Freestyle
22 - Maino & Prinz Freestyle
23 - Giacana Freestyle
24 - Posta Boy Freestyle
25 - Eliott Ness Freestyle
26 - Talib Kweli Freestyle
27 - 40 Cal Freestyle
28 - The Clipse Freestyle
29 - The Game Freestyle
30 - Styles P Freestyle
31 - Uncle Murder Freestyle
32 - J.R. Writer & Juelz Santana Freestyle
33 - Trey Songz Freestyle
34 - Murda Mook & Bow Wow Freestyle
35 - Flawless Freestyle
36 - One Shot Freestyle
37 - Raekwon Freestyle
38 - Young Cash & Remy Ma Freestyle
39 - Rick Ross Freestyle
40 - Jim Jones Outro
How To DOWNLOAD