DJ Envy - Dipset: The Bad Guys Pt. 8
Submitted by mfizzel on Thu, 02/02/2006 - 4:57am.
Mixtape Directory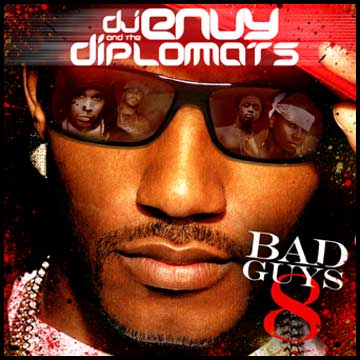 DJ Envy aka. The People's Champ delivers new music from the boys
from 140th and Lennox. This joint has all the latest anthems from the
Diplomats and features some real dope cameos. This has tracks with
Cam'ron, Jim Jones, Juelz Santana, 40 Cal, JR Writer, Young Jeezy,
Lil' Wayne, Paul Wall, Dem Franchize Boyz, LL Cool J and Webbie.

1 - You Gotta Love It - Cam'ron (Dissin' Jay-Z)
2 - It's Nothing - Cam'ron feat. Juelz Santana
3 - Do Your Thing - Cam'ron
4 - I'm Wit Whatever - Juelz Santana feat. Lil' Wayne, Jim Jones & Notorious B.I.G.
5 - Get Em Daddy (remix) - Cam'ron feat. Jim Jones, Hell Rell & J.R. Writer
6 - He's A Rider - J.R. Writer feat. Cam'ron
7 - Major Paper - J.R. Writer
8 - Bricks For The High - Jim Jones feat. Dem Franchize Boyz & Dame Dash
9 - On The Grind - Juelz Santana feat. Paul Wall
10 - Birdcall (remix) - J.R. Writer feat. Cam'ron & Lil' Wayne
11 - Go Flip A Pack - Cam'ron feat. Hell Rell & J.R. Writer
12 - Best Of Both Hoods - Juelz Santana feat. Young Jeezy
13 - Suck Radio - Cam'ron feat. Webbie
14 - Soul Survivor (remix) - Jim Jones feat. Akon
15 - Make It Work For Ya - Juelz Santana feat. Juelz Santana feat. Lil' Wayne & Young Jeezy
16 - I'm A G - J.R. Writer
17 - It's LL & Santana - Juelz Santana feat. LL Cool J
18 - Hate - Cam'ron feat. Hell Rell & J.R. Writer
19 - Get Money - Jim Jones feat. Juelz Santana & Young Jeezy
20 - In The Line Of - Hell Rell feat. J.R. Writer
21 - Grill Em - J.R. Writer
22 - In Da Army - Juelz Santana
23 - Rock Shit - Juelz Santana
24 - Like Whoa - Juelz Santana
25 - Oh Yes - Juelz Santana
How To DOWNLOAD