DJ Envy - The Bad Guys Part 11: The Diplomats
Submitted by mfizzel on Sun, 05/14/2006 - 10:02am.
East Coast | DJ Envy | Mixtape Torrents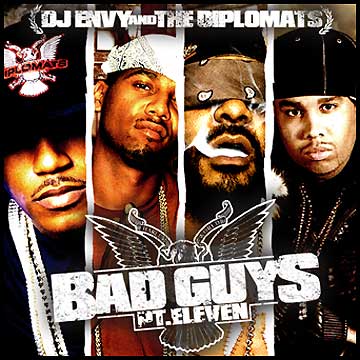 DJ Envy aka. The People's Choice brings you his infamous mixtape
series profiling the hardest 3 groups in hip-hop, The Bad Guys. This
new Diplomats edition mixtape brings you nothing but Dipset's riot
anthems. This mixtape features new tracks & freestyles from all of
Dipset, including Cam, Jim, Juelz, J.R., Hell Rell, .40 Cal, Jha Jha.
1 - War - Hell Rell & Cam'ron
2 - What You Know About Crack - J.R. Writer feat. Juelz Santana
3 - Gangsta Music Pt. 3 - Juelz Santana
4 - White Girl - Cam'ron
5 - Die Tonight - Jim Jones
6 - Wet Wipes - Cam'ron
7 - This Shit Is Funny - J.R. Writer feat. Slim Thug
8 - Suck It Or Not - Cam'ron feat. Lil Wayne
9 - It's Nothin (remix) - Cam'ron & Hell Rell
10 - King Of Ny - Juelz Santana
11 - Yayo - Hell Rell feat. J.R. Writer & Chubby
12 - Bright Lights, Big City - Jim Jones
13 - Fresh - J.R. Writer & Hell Rell
14 - Freestyle - Jha Jha
15 - Getting Some Head - Jim Jones
16 - I'M Laughin - Cam'ron & Hell Rell
17 - Where We From - J.R. Writer
18 - How I Ride- 40 Cal
19 - Freestyle - J.R. Writer
20 - Murda - Purple City feat. Jim Jones
21 - Show You What I'm Working With - Juelz Santana
22 - White Girl - Juelz Santana
23 - Well Known - Hell Rell
24 - Swang (remix) - Jim Jones
25 - Ready To Rumble - J.R. Writer
26 - Freestyle - Jim Jones
27 - Ruger Rell - Hell Rell
28 - Freestyle - Jha Jha
29 - Babalou - J.R. Writer feat. Chubby
30 - Trap - Purple City feat. Jim Jones
31 - I Love You (remix) - Cheri Dennis feat. Jim Jones & Juelz Santana
How To DOWNLOAD