DJ Envy - Hitlist 15
Submitted by mfizzel on Sat, 01/14/2006 - 4:57pm.
Mixtape Directory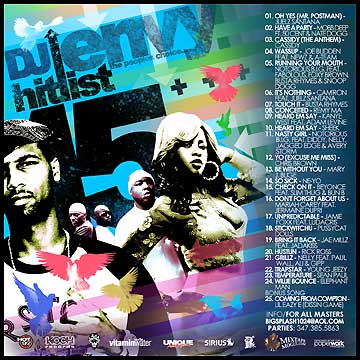 DJ Envy aka. The People's Choice drops the 15th Hit List & he gathers
up all the latest & best tracks, and he puts them on this mixtape that
features music from Joe Budden, Cassidy, Juelz Santana & Cam'ron,
Notorious BIG, Fabolous, Mary J. Blige, Busta Rhymes, Young Jeezy,
Elephant Man, Remy Martin, Lil' Easy E, Ne-Yo, Jae Millz & Jadakiss.

1 - Oh Yes (Mr. Postman) - Juelz Santana
2 - Have A Party - Mobb Deep feat. 50 Cent & Nate Dogg
3 - Cassidy (The Anthem) - Cassidy
4 - Wassup - Joe Budden feat. Newz & A-Team
5 - Running Your Mouth - Notorious B.I.G. feat. Fabolous, Foxy Brown, Busta Rhymes & Snoop Dogg
6 - It's Nothing - Cam'ron feat. Juelz Santana
7 - Touch It - Busta Rhymes
8 - Conceited - Remy Ma
9 - Heard Em Say - Kanye West feat. Adam Levine
10 - Heard Em Say - Sheek
11 - Nasty Girl - Notorious B.I.G. feat. Diddy, Nelly, Jagged Edge & Avery Storm
12 - Yo (Excuse Me Miss) - Chris Brown
13 - Be Without You - Mary J. Blige
14 - So Sick - Ne-Yo
15 - Check On It - Beyonce feat. Slim Thug & Bun B
16 - Don't Forget About Us - Mariah Carey feat. Jermaine Dupri
17 - Unpredictable - Jamie Foxx feat. Ludacris
18 - Stickwitchu - Pussycat Dolls
19 - Bring It Back - Jae Millz feat. Jadakiss
20 - Hustlin' - Rick Ross
21 - Grillz - Nelly feat. Paul Wall, Ali & Gipp
22 - Trapstar - Young Jeezy
23 - Willie Bounce - Elephant Man
24 - Coming From Compton - Lil Eazy E (Dissin' The Game)
How To DOWNLOAD