DJ Envy RnB 24
Submitted by mfizzel on Tue, 11/22/2005 - 10:45pm.
Mixtape Directory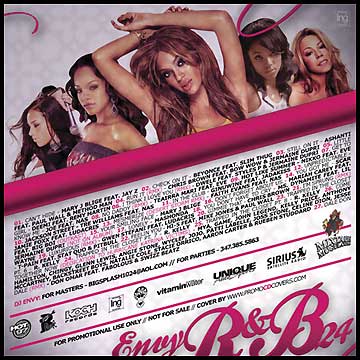 DJ Envy aka. The People's Choice gathers the latest R&B and comes
through with 7 new remixes featuring Mary J Blige, Beyonce, Ginuwine,
Tre Williams, Teairra Mari, Eve, Ashanti, Chris Brown, Mya, Ludacris,
Jamie Foxx, Big Boi, T-Pain, Mariah Carey, Mashonda & Faith Evans.

1 - Can't Hide - Mary J Blige feat. Jay-Z
2 - Check On It - Beyonce feat. Slim Thug
3 - Still On It - Ashanti feat. Paul Wall & Method Man
4 - Run It (remix) - Chris Brown feat. Bow Wow & Jermaine Dupri
5 - Little Girl - Deemi feat. Remy Martin
6 - I Think I Love You (remix) - Dwele feat. Styles P. & Jermaine Dupri
7 - Get To Know Me - Joe feat. Nas
8 - No Daddy (remix) - Teairra Mari feat. Eve
9 - Hot Like Summer - Nikko feat. NORE
10 - Jackson Street - Tre Williams feat. Nas
11 - In The Club - Ginuwine feat. Jadakiss
12 - Unpredictable - Jamie Foxx feat. Ludacris
13 - Mesmerize (Desert Storm remix) - Faith Evans feat. Nas
14 - You Got Me - Scar feat. Big Boi
15 - Your Smiling Face - Mary J Blige
16 - Don't Forget About Us - Mariah Carey feat. Jermaine Dupri (not on album)
17 - Lonely - Mashonda
18 - You Don't Have To Cry - Ms. Dynamite feat. Lil Wayne
19 - Luxurious (remix) - Gwen Stefani feat. Ludacris
20 - Gimmie That - Chris Brown
21 - I'm Sprung (remix) - T-Pain feat. Stat Quo & Pitbull
22 - Feelin You - Hi-5 feat. Mike Jones & Paul Wall
23 - Come Together Now (Dedication To Hurricane Katrina Victims) - Mya, Game, Kelly Price, Anthony Hamilton, Chingy, Glenn Lewis, Angie Stone, Wyclef, Jojo, Patti Labelle, Joss Stone, Celine Dion, Jesse Mccartney, Backstreet Boys, Natalie Cole, Stacie Orrico, Aaron Carter & Rueben Studdard
24 - Dale Don Dale (remix) - Don Omar feat. Fabolous & Swizz Beat
How To DOWNLOAD