DJ Envy & Jermaine Dupri - So So Def Mixtape Vol. 3
Submitted by mfizzel on Sun, 09/10/2006 - 1:14pm.
General | DJ Envy | Mixtape Torrents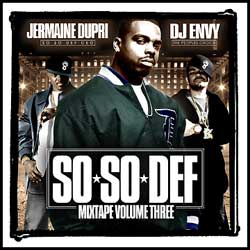 The Youngest, Flyest and Flashy-est CEO in
the hip-hop universe opens his doors up to
'The People's Choice' DJ Envy, as So So Def's
head honcho Jermaine Dupri brings you the
3rd edition of the So So Def Mixtape.
Featuring the hottest new records from the So
So Def farm, including DPG vet Daz Dillinger as
he readies his upcoming album So So Gangsta.
Also along for the ride are Atlanta representers
Dem Franchize Boyz, T. Waters, Young
Capone and Johnta Austin.
To add to the entertainment, Envy adds recent
hip-hop bangers from 50 Cent, Fabolous, The
Lox, Akon, Beenie Man & Foxy Brown and more.

1 - Jermaine Dupri Intro
2 - Daz feat. Young Jeezy - Gangsta Music
3 - Jermaine Dupri feat Daz - Cake Freestyle
4 - Johnta Austin feat. Jadakiss - Turn It Up (remix)
5 - Daz feat. Johnta Austin - Weekend Love
6 - 50's Entourage - 50 Cent
7 - Styles P feat. Jadakiss & Sheek - Who Want A Problem (remix)
8 - Fabolous - Monkey Business
9 - Daz feat. Kurupt & Snoop - DPG 4 Life
10 - DJ Absolut feat. Beanie Sigel, Raekwon, Nucci Reyo, Kayne West - What's A Nigga To Do
11 - Diddy - The Future
12 - Jermaine Dupri - Interlude
13 - T. Waters feat. Q Da Kid - Get Like Me
14 - Johnta Austin - Hustlin Freestyle
15 - Brooke Valentine feat. Dem Franchize Boyz - Pimped Out
16 - Akon - Smack That
17 - Young Capone - Hey Lil Mamma
18 - Daz feat. Ice Cube - Strizzap
19 - Bossman - Feet
20 - Game feat. Red Cafe - One Blood (remix)
21 - E-40 feat Juelz Santana & Snoop - U & Dat (remix)
22 - Memphis Bleek - Push It Freestyle
23 - Beenie Man feat. Foxy Brown - Hmmm Mmmm (remix)
24 - Jermaine Dupri Outro
How To DOWNLOAD