DJ Smallz - Dirty R&B #12
Submitted by mfizzel on Wed, 06/14/2006 - 7:13pm.
R&B | DJ Smallz | Mixtape Torrents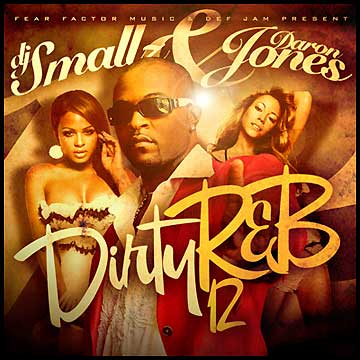 Mr. Southern Smoke DJ Smallz brings you the latest installment of his mixtape
series of Dirty South R&B, otherwise known as crunk'n B. This edition is hosted
by multi-latinum R&B group 112's front-man Daron Jones.
With Daron taking on a solo career in addition to his duties with the R&B group
responsible for the hits "Cupid," "Only You" & "Peaches & Cream," this mixtape
not only gets you acquainted with the latest Dirty R&B but also this ATL Bad Boy.
Featuring new R&B music from T-Pain & Lil' Wayne, Marques Houston & Yung Joc,
Chingy, Nick Cannon w/ 112 & Kanye West, Bobby Valentino, Jagged Edge, Jermaine
Dupri, Joe & G-Unit, Avant & Shawnna, Mariah Carey & Dem Franchize Boyz, T.I. &
Trey Songz and more.

1 - DJ Smallz & Daron Jones (of 112) - Intro
2 - Fabo (of D4L) - Gorilla
3 - Marques Houston feat. Yung Joc - Like This
4 - Jagged Edge feat. Jermaine Dupri - Stunnas
5 - Chingy feat. Jermaine Dupri - Dem Jeans
6 - Nick Cannon feat. 112 & Kanye West - My Wife
7 - Joe feat. Young Buck & Tony Yayo - Ain't Like Me
8 - Lil' Wayne feat. Bobby Valentino - Grown Man (remix)
9 - Avant feat. Shawnna & Bone Thugs - 4 Minutes (remix)
10 - T-Pain feat. Lil' Wayne - Studio Luv (remix)
11 - Bobby Valentino - Wreck (The Err Song)
12 - Chingy feat. Tyrese & J.D. - Pullin' Me Back
13 - Johnta Johnson feat. Jermaine Dupri - Turn It Up
14 - Daron Jones (of 112) - Let's Get This Understood
15 - Q-Tip feat. Andre 3000 (of Outkast) - That's Sexy
16 - T.I. feat. Trey Songz - Why You Wanna (remix)
17 - Ray Ray feat. T.I. & Young Dro - Tell 'Em (remix)
18 - Yung Joc (Bad Boy South) - I Know You See It
19 - Shawnna feat. Lil' Wayne, Pimp C & Rick Ross - Gettin' Some (remix)
20 - Mariah Carey feat. Dem Franchize Boyz - Say Something (remix)
21 - Cheri Dennis feat. Yung Joc & Jim Jones - I Love U (remix)
22 - Tiffany Affair feat. Jody Breeze - Start A Fire
23 - Nicole feat. Mannie Fresh - Groove Tonight
24 - Shareefa feat. Ludacris - I Need A Boss
25 - Kelis feat. Slim Thug - I'm Bossy (remix)
26 - Brooke Valentine feat. Pimp C - Dope Girl
27 - Brooke Hogan feat. Paul Wall - About Us
28 - Ms. Peaches feat. C-Murder - If You
29 - Kandi feat. 8Ball & MJG - I Need
30 - Daron Jones (of 112) - Outro
How To DOWNLOAD