DJ Envy - Down & Dirty R&B #9
Submitted by mfizzel on Wed, 06/28/2006 - 8:21am.
R&B | DJ Envy | Mixtape Torrents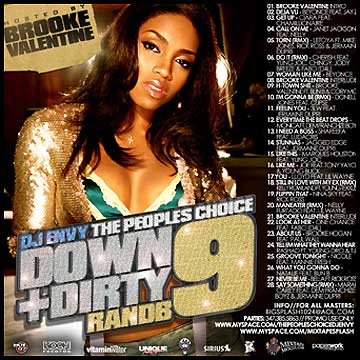 DJ Envy drops the latest R&B from the Dirty South, not to mention he
has Subliminal Ent./Virgin Records R&B artist from Houston Brooke
Valentine host this mixtape. This features all-new R&B from Beyonce
& Jay-Z, Ciara & Chamillionaire, Mariah Carey w/ Dem Franchize Boyz
& Jermaine Dupri, Donell Jones & The Clipse, Marques Houston & Yung
Joc, Shareefa & Ludacris, Nina Sky & Rick Ross, Janet Jackson & Nelly.

1 - Brooke Valentine Intro
2 - Deja Vu - Beyonce feat. Jay-Z
3 - Get Up - Ciara feat. Chamillionaire
4 - Call On Me - Janet Jackson feat. Nelly
5 - Torn (remix) - Letoya feat. Mike Jones, Rick Ross & Jermaine Dupri
6 - Do It (remix) - Cherish feat. Yung Joc, Chingy, Jody Breeze & Fabo (D4L)
7 - Woman Like Me - Beyonce
8 - Brooke Valentine Interlude
9 - H-Town Sh*t - Brooke Valentine feat. Bun B & Cory Mo
10 - I'm Gonna Be - Donell Jones feat. Clipse
11 - Feelin You - 3LW feat. Jermaine Dupri
12 - Everytime the Beat Drops - Monica feat. Dem Franchize Boyz
13 - I Need A Boss - Shareefa feat. Ludacris
14 - Stunnas - Jagged Edge feat. Jermaine Dupri
15 - Like This - Marques Houston feat. Yung Joc
16 - Like Me - Joe feat. Tony Yayo & Young Buck
17 - You - Lloyd feat. Lil Wayne
18 - Still In Love With My Ex (remix) - Kelly Rowland feat. Young Texxus
19 - Flippin That - Nina Sky feat. Rick Ross
20 - Maneater (remix) - Nelly Furtado feat. Lil Wayne
21 - Brooke Valentine Interlude
22 - Look At Her - One Chance feat. Fabo (D4L)
23 - About Us - Brooke Hogan feat. Paul Wall
24 - Tell Em What They Wanna Hear - Rashad feat. Young Dro & T.I.
25 - Groove Tonight - Nicole feat. Mannie Fresh
26 - What You Gonna Do - Natalie feat. Bun B
27 - Never Be Me - Bella feat. Rick Ross
28 - Say Something (remix) - Mariah Carey feat. Dem Franchize Boyz & Jermaine Dupri
How To DOWNLOAD