DJ Ideal & Twista - Tailwinds v.2: The Mobstas Anthem
Submitted by mfizzel on Sat, 09/23/2006 - 8:47pm.
General | DJ Ideal | Mixtape Torrents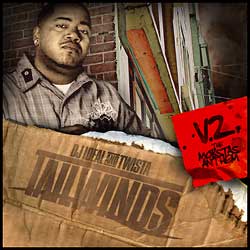 In 2004, Twista's Kamikazee debuted at #1 on the Top Billboard 200 albums thanks
to the success of the Kanye-twisted "Slow Jams." For many, that was their first
time catching the vapors from the West-side Chicagoan.
But by no means was Twista new to the rap game. Having put it down for 15 years
solid, the man gets his senior citizen discount in game. What Twista was new to,
however, was mixtapes.
Bringing you the follow-up to Tailwinds by DJ Whoo Kid, DJ Ideal returns with
Twista's second wind: Tailwinds, v.2: The Mobstas Anthem. This mixtape features
exclusive tracks and freestyles from Twista & The Speedknot Mobstas.

1 - Twista - Intro
2 - Twista - Charged
3 - Ass Whoop feat. Just Blaze & Saigon
4 - Money & Murda feat. Speedknot Mobstas
5 - Money on My Mind Freestyle feat. Speedknot Mobstas
6 - I'm Da Man feat. Rick Ross
7 - The Streets
8 - Talk Hard feat. Pitbull & E-40
9 - Twista - Interlude
10 - Grammy Family Freestyle feat. Speedknot Mobstas
11 - Get Low - DJ Ideal (remix)
12 - Twista - Interlude
13 - Two Times
14 - Pussy Pop
15 - Love For The Hood
16 - Ready For War
17 - DJ Play A Love Song (remix)
18 - Out My Body feat. Speedknot Mobstas
19 - Liffy Stokes - Interlude
20 - Liffy Stoke - Gangsta, Gangsta
21 - Liffy Stokes - No Half Steppin Freestyle
22 - Twista & DJ Ideal - Outro
23 - Everbody Say feat. Liffy Stokes
How To DOWNLOAD